Jury citation
Green Square Library and Plaza was awarded through international competition as a standout for its key design move: to locate the bulk of the library program underground in anticipation of a tall and dense urban future all around it. The built outcome is testament to the generosity of this strategy. It opens up a major portion of the site as accessible public space and ensures that sunlight will reach future south-side retail and hospitality venues, undoubtedly enhancing their viability and the vibrancy of the place as a whole.
The four ensemble elements – the entry wedge, the sunken circular garden, the tower and the tiered seating – bring light into the library and cleverly provide different opportunities for access. They are skilfully scaled and placed, giving order to the plaza without dominating it. An array of circular skylights is seamlessly integrated with the pavement; at night they become beacons, illuminating and bringing life to the plaza. The design manages difficult site constraints with apparent ease. It successfully integrates public art, both in the plaza itself and within the library, visible from the plaza.
Green Square Library and Plaza is emerging as the urban and community heart of Green Square. This is placemaking led by investment in high-quality public space.
Green Square Library and Plaza is located in Zetland, New South Wales and is built on the land of the Gadigal people of the Eora nation.
For more coverage, see Charles Rice's review from Architecture Australia Jul/Aug 2019.
Credits
Architect

Studio Hollenstein
NSW, Australia
Project Team

Matthias Hollenstein (lead designer and project architect), Felicity Stewart (lead designer), Marcus Graham (project architect)
Architect

Stewart Architecture
Sydney, NSW, Australia
Architect

Hassell
Australia
Consultants

Builder John Holland
Engineer Arup
Landscape consultant Hassell
Signage, wayfinding and heritage interpretation Collider

Site Details
Project Details

Status Built
Category Landscape / urban
Type Public / civic

Source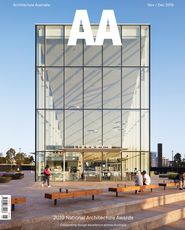 Issue
Architecture Australia, November 2019
Related topics