Jury citation
The Parliament of Victoria Members' Annexe is an ambitious yet restrained contribution to Melbourne's parliamentary precinct. It gives clarity and coherence to an assemblage of government buildings that, over many years, had devolved into a rabbit warren of additions, subdivisions and haphazard enclosures. What has been accomplished is not only of high architectural merit; it is transformative to the practice of government for the state of Victoria.
In contrast to the previous cramped and inadequate spaces, all new parliamentary offices have natural light and external views. Where inequitable space and amenity reinforced hierarchy and temporal political power, all members of parliament now enjoy equal facilities.
The design is as much a piece of landscape as it is a building. It is a "building-scape," where a new cloister courtyard, sunken and yet full of light and vegetation, makes every office a special one; where corridors provide opportunities for informal meetings and consultation as much as they enable circulation and movement. The act of recessing the building into the grounds of the parliamentary precinct reduces its outward visibility but heightens its social relevance to the mechanics of government. This is a humble project with powerful urban consequences.
Parliament of Victoria Members' Annexe is located in Melbourne, Victoria and is built on the land of the Wurundjeri people of the Kulin nation.
For more coverage, see Dimity Reed's review from Architecture Australia Mar/Apr 2019.
Credits
Architect

Peter Elliott Architecture + Urban Design
Melbourne, Vic, Australia
Project Team

Peter Elliott (design architect), Catherine Duggan, Sean van der Velden, Chris Jones, Grant Dixon, Juliet Maxsted, Geoffrey Barton, Justin Mallia (project architects), Tim Foster, Hosna Saleem, Shigeru Iijima, An Thai (graduates of architecture)
Consultants

Aboriginal heritage consultant Andrew Long and Associates
Access consultant Architecture and Access
Acoustic consultant Acoustic Consulting Australia
Arboriculture consultant Glenn Waters Arboriculture
Builder Icon
Building surveyor Philip Chun
European archaeologist Archaelogical and Heritage Management Solutions
Facade engineer AECOM
Geotechnical and environmental consultant Douglas Partners
Heritage consultant Trethowan Architecture
Landscape architect TCL
Quantity surveyor Slattery
Signage and wayfinding Melbourne Architectural Signage Studio
Structural, services and civil engineer and ESD consultant Irwinconsult

Site Details

Location Melbourne, Vic, Australia

Project Details

Status Built
Category Landscape / urban, Public / cultural

Source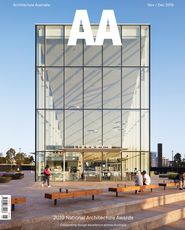 Issue
Architecture Australia, November 2019
Related topics