Jury citation
Yagan Square is a critical project that sets a new standard for the potential impacts of genuine collaboration and informed consultation in the design of urban spaces. By layering existing and historical circulation, Yagan Square physically reconnects the entertainment and cultural precinct of Northbridge with Perth's CBD, re-establishing the site as a natural meeting place for people. The design turns the combined challenges of access and substantial changes in site levels into opportunities for compelling and previously unrealized views of the city and surrounds.
The dense and cleverly crafted landscape is both engaging and robust as it weaves across the topography, moving pedestrians effortlessly from upper to lower ground levels. Multiple spaces are formed by these topographical shifts, allowing the public domain to be used by large groups or by individuals at any time of the day or night.
A rich and dynamic experience has been created through the layered referencing of Indigenous and colonial history, geography, local materiality and flora. As Perth continues to densify around Yagan Square, this space that celebrates and acknowledges our cultural and colonial past, while offering a glimpse of a positive future, will become an increasingly important part of the city's urban fabric.
Yagan Squre is located in Perth, Australia and is built on the land of the Whadjuk people of the Nyoongar nation.
For more coverage, see Emma Williamson's review from Architecture Australia Sept/Oct 2019.
Credits
Architect

Lyons Architecture
Melbourne, Vic, Australia
Architect

Iredale Pedersen Hook Architects
Australia
Landscape architect

ASPECT Studios
Australia
Consultants

Access consultant O'Brien Harrop Access
Art Coordinator Malcolm McGregor
Builder Doric
Building surveyor Milestone Certifiers
Civil, facade, structural, traffic engineering Aurecon
Creative art template Material Thinking
Heritage consultant Griffiths Architects
Mechanical, comms, fire engineering, vertical transport, audio visual, ESD, hazardous goods, waste management, electrical, hydraulics, acoustics WSP
Quantity surveyor Slattery
Retail design Maddison Architects with Encycle Consulting and Future Food
Specialist lighting and digital services Ramus

Site Details

Location Perth, WA, Australia

Project Details

Status Built
Category Landscape / urban
Type Public domain

Source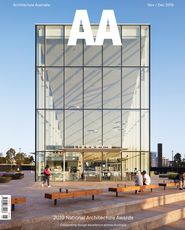 Issue
Architecture Australia, November 2019
Related topics