Jury citation
Daylesford Longhouse is utterly extraordinary – challenging in its questioning, enchanting in its outcome. Situated in rural Victoria, the house aims to nourish and sustain. The strategic starting point was a roof large enough to collect water to support a small number of people, some animals and a produce garden on a remote and exposed site. The core activity to be sustained by the architecture was food production, preparation and sharing.
The roof – roughly twelve metres by 130 metres – marks out a linear territory that, together with walls of sheet metal, translucent polycarbonate and agricultural mesh, preserves the interior (which includes the verdant produce garden) as a discrete climatic zone. The translucent skin, punctuated only by carefully curated picture windows, protects the garden from predators and exposure. Akin to a long shed or conservatory, the structure includes an operational barn at one end and an intimate residence at the other.
Internally, aedicules, arbours and eyries accommodate the domestic functions of kitchen, dining, sleeping and bathing. These spatial "follies" reference other times and places, and form the settings for continuously unfolding theatre. The sense of living within the garden is profoundly delivered.
Partners Hill has scaled up this design to the rural landscape to avoid being diminished by it. The site is a microcosm of the broader setting; "wild" grass mounds that reflect the mounded landforms in the distance are used to signify the building entry and the cultivated production garden extends into the house.
Inside, alongside the flourishing plant life, is a surprising richness of refined architectural detail – raw timber, terracotta and white-glazed brick, all composed harmoniously in a magical and constantly changing light. One is drawn from places nestled in the garden to places of survey in the canopy, in what is a deeply memorable experience of a house.
Daylesford Longhouse is located in Elevated Plains, Victoria and is built on the land of the Dja Dja Wurrung people of the Kulin nation.
For more coverage, see Katelin Butler's rewiew from Architecture Australia Jul/Aug 2019.

Credits
Architect

Partners Hill
Australia
Project Team

Timothy Hill (design architect), Domenic Mesiti, Michael Hogg, Andrew D'Occhio (architects), Jonathan Chamberlain (graduate of architecture)
Consultants

Construction manager Nick Andrew Construction

Site Details
Project Details

Status Built
Category Residential
Type New houses

Source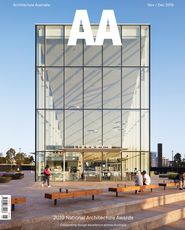 Issue
Architecture Australia, November 2019
Related topics