Jury citation
Rarely has an interior work been so singular, so "on message," as the interior design and fitout of Denton Corker Marshall's new offices in Melbourne. A design and execution of profound consistency, every metre of the office floor seems to reaffirm the attitudes and sensibilities of the practice. Such an unrelentingly limited palette and resolution of details could easily become overwhelming; however, by DCM, this combination has produced a very provocative, very non-commercial interior architecture. As a branding exercise – which undoubtedly it is not – it serves to make it quite clear that DCM does not stand for all things – only some very considered things. No client entering the minimalist lobby/foyer would believe that this is a practice where anything goes, or where all client demands will be satisfied. It is a powerful message.
Having vacated a multi-floored office in favour of one large floor plate, the firm chose Collins Place, designed by Pei and Partners in collaboration with Bates Smart and McCutcheon in the 1970s. The building's distinct, large, mullion-free windows create panoramas with a downward view-line, offering spectacular views, aligned off-grid, to Melbourne's CBD.
Into this modernist relic, DCM has brought tones of grey, silver and black to unite disparate meeting rooms, work stations, presentation spaces, and various distinct offices and back-of-house areas. This consistency is never monotonous. Instead, it produces both a well recognized sensibility and a background against which people and new work come to the fore. It is sombre without being severe.
Perforated metal panels line most walls, giving a singular skin to the office; the same material is used for pin-up (or magnet-up) boards, storage, product literature shelves, and doors to toilets and the workshop. Large pivot panels close off or open up meeting and presentation spaces, with few areas closed by doors or thresholds. This is an anti-corporate corporate identity with subtlety, but without any ambiguity as to where the practice stands.
Denton Corker Marshall Studio is located in Melbourne, Victoria, and is built on the land of the Boon Wurrung and Woiwurrung (Wurundjeri) peoples of the Kulin nation.
Credits
Architect

Denton Corker Marshall
Melbourne, Vic, Australia
Consultants

Accessibility consultant Before Compliance
Acoustic consultant Marshall Day Acoustics
Builder Schiavello
Building surveyor Philip Chun
Services consultant Umow Lai
Structural consultant Arup

Site Details

Location Melbourne, Vic, Australia
Site type Urban

Project Details

Status Built
Category Public / commercial
Type Workplace

Source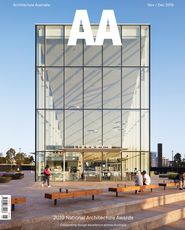 Issue
Architecture Australia, November 2019
Related topics