Jury citation
Somewhere Other is an installation, a piece of furniture, a series of frames, a "camera" and an experience – as well as a meditation on the architecture of memory and place.
Produced for the Sixteenth Venice Architecture Biennale, Freespace, this multifaceted object-instrument is an intricate multimedia/multi-spatial environment, displaying sophisticated architectural, cinematic and carpentry skills and sensibilities. Designed and developed by John Wardle Architects, it includes commissioned work of filmmaker Coco and Maximilian, and installation artist and filmmaker Natasha Johns-Messenger, and was constructed by joiners/fabricators Jacaranda Industries.
In the context of its original site, Venice, Somewhere Other connects and overlays multiple sensory experiences through apertures, viewing frames, refracted and mirrored images and filmic sequences. All the while, it links Italy to Australia, Venice to Geelong, with memories and fantasies overlaying all possible interpretations.
Entirely an architecture of discovery and exploration, and on a relatively compact footprint, Somewhere Other joins space, time and materiality through meticulous craftsmanship and execution. The device invites its audience to venture through portals and frames; to gaze into and through its various screens, surfaces and mirrors; and to calibrate and calculate where one space ends and another begins, where one memory ends and a fantasy unfolds.
Somewhere Other is a decidedly sensual object. The polished Australian timbers induce visitors to a slow touch at a portal, to run fingers along the corrugated snout, or to make a close inspection of the meticulous joinery. Beyond the conceptual play with perspective, constructed view lines, framing and the history of optics and mirrors, the work is also a dis-locator, being of and for Venice, but always demonstrating the interests and proclivities of John Wardle Architects. The filmic collage by Coco and Maximilian plays a loop of conjoined Wardle projects, situating this optical instrument as an "in camera" viewing room for a particularly Australian architect.
Credits
Architect

John Wardle Architects
Melbourne, Vic, Australia
Project Team

John Wardle, Stefan Mee, Alex Peck, Andrew Wong (design architects), James Loder, Alan Ting, Minnie Cade (project architects)
Consultants

Artist Natasha Johns-Messenger
Filmmaker Coco and Maximilian
Glass production 1603 Tempi e Arte di Leonardo Cimolin
Glass production management Venice Art Factory, Luca Berta and Francesca Giubilei
Joinery Jacaranda Industries
Steelmaker Derek John
Structural engineer Tensys

Site Details
Project Details

Type Installations

Source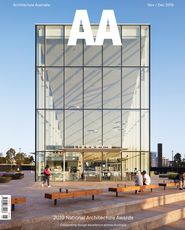 Issue
Architecture Australia, November 2019
Related topics