Jury citation
Green Square Library and Plaza responds ambitiously to its context – the ever-increasing residential density of the Green Square town centre, which will become home to 61,000 people by 2030, according to the City of Sydney. Inherent to the project's design strategy is the protection and preservation of an eight-thousand-square-metre public plaza; this is achieved by submerging much of the building program beneath it. The design privileges the plaza as urban "breathing space," which it recognizes as a diminishing commodity that will become increasingly valuable as the area continues to densify.
Across the plaza, the elemental geometries of a triangle, circle, square and trapezium are strategically placed, hinting at building access and use. Their relative transparency creates beacons of light and activity, and allows views to and from the library and associated community spaces. In essence, this project is a kind of public living room with generous and vital areas that can be shared between adults, adolescents and children. It is a living heart and a place to exhale.
The stacking of community-programmed spaces within the mini-tower allows the building to be used day and night for a range of activities, from group meetings to quiet reading or music practice.
The design builds upon a clear understanding of the changing nature of public libraries. The library spaces are inherently flexible, being able to expand, contract, adapt and evolve as required. In contrast to the silence and reverence of a traditional library, the Green Square Library's large rooms can accommodate a wide variety of dynamic pursuits. Large glazing cut-outs and skylights create a porous interface between the library and the plaza, ensuring constant connection with the outdoor environment and a crossover of activities.
Awarded through an international design competition, this project demonstrates what is possible when architects are encouraged and supported to tackle the challenges of our growing cities. By thinking creatively, Studio Hollenstein in association with Stewart Architecture has created a truly wonderful "third place," an inviting and optimistic space, separate from home and work, for community engagement and civic life.
Green Square Library and Plaza by Studio Hollenstein in association with Stewart Architecture is located in Zetland, New South Wales and is built on the land of the Gadigal people of the Eora nation.
— Green Square Library and Plaza was reviewed by Charles Rice in Architecture Australia Jul/Aug 2019.
Credits
Architect

Studio Hollenstein
NSW, Australia
Project Team

Matthias Hollenstein (lead designer and project architect), Felicity Stewart (lead designer), Marcus Graham (project architect)
Architect

Stewart Architecture
Sydney, NSW, Australia
Consultants

Builder John Holland
Engineer Arup
Landscape consultant Hassell
Signage, wayfinding and heritage interpretation Collider

Site Details

Location Sydney, NSW, Australia

Project Details

Status Built
Category Landscape / urban, Public / cultural
Type Libraries, Public domain

Source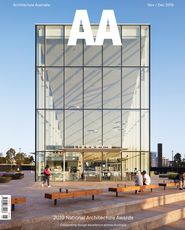 Issue
Architecture Australia, November 2019
Related topics