Jury citation
The 2019 Student Prize for the Advancement of Architecture is awarded to Bobbie Bayley and Owen Kelly for their project Grand Section. Inspired by the principles of the Grand Tour and an architectural section, Bobbie and Owen set out to explore the relationship between landscape, architecture and people in some of the most remote parts of Australia. Travelling by bicycle for ten months, the pair traversed the continent along latitude 25°S from Fraser Island in the east to Shark Bay in the west, a journey of 7,600 kilometres. Their journey was punctuated by week-long stopovers that afforded Bobbie and Owen opportunities for exchange by engaging communities in participatory workshops and discussions about place, people and architecture. The findings were captured and presented through onsite exhibitions and illustrated keepsake booklets.
Bobbie and Owen documented their journey via Instagram, Facebook and a blog – "The Grand Section: Girt by Sea, Girth by Desert" – and, since completing it, they have shared their research with the wider architectural community through conference presentations and numerous talks and workshops across Australia. They have also produced a travelling exhibition, Girthy with Slim Edges, comprising handmade display cases, printed zines and videos from their travels. They continue to travel and share their experiences and insights with both the architectural profession and the general public.
The jury unanimously awards this prize to Bobbie and Owen for their initiative, creativity and tenacity, and for their commitment to the advancement of architecture through leadership, publication, education and, most particularly, community engagement and advocacy in promoting the value and importance of Australian architecture.
Jury
Vanessa Bird FRAIA (Chair) – National President's delegate, Australian Institute of Architects | Principal, Bird de la Coeur Architects
Ceridwen Owen RAIA – University of Tasmania
Chris L. Smith – Chair, National Education Committee, Australian Institute of Architects
Troy Borg – President, SONA, Australian Institute of Architects
Source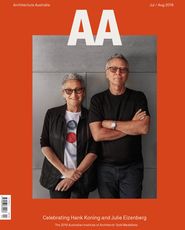 Award
Published online: 21 Jun 2019
Words: Editorial Desk AAU
Images: Dave Pollock, Dillon Seitchik-Reardon
Issue
Architecture Australia, July 2019
Related topics