Jury comment
Fowler and Ward are an exciting new voice with an exciting new style. While there's an acknowledgement of what co-directors Jessie Fowler and Tara Ward did previously, their current work definitely reveals something that feels completely fresh in its approach. One jury member noted they have a lot of energy and that's a good thing to support and another commented that it's easy to see what they're setting out to do, which is to use design to improve people's lives. This is certainly evident in the projects they've produced since establishing the studio in 2018, including a number of commercial and retail fitouts and residential renovations and new builds.
There's a lot of experimentation in their process and a mastery of materials contributes to highly experiential outcomes. Everything they do is perfectly articulated and successful in increasing engagement between people and design.
Practice profile
Connecting over identical fashion choices on the nervous first day of architecture school in 2004, the two founders of Fowler and Ward have developed a young architecture practice founded on a sixteen-year friendship based on an aligned style and a shared interest in socially minded design. As proud alumni of Clare Cousins Architects, and with multi-scale experience in Australia and the United States, both directors draw on well-honed design skills learnt in firms that define contemporary Australian design practice. Since the practice's full-time inception in 2018, nine projects have been completed including two office fitouts, a gym, retail store, several residential renovations and two residential new builds. Both directors, aged 33 and 34, have an architectural education with thorough experience across interior design-focused projects. For the directors, the process of starting the practice has been unhurried as they agree that arming themselves with broad industry and life experience is critical to creating the conscious, responsible and considered design that they aim to produce.
Design practice — Fowler and Ward
Project team — Jessie Fowler, Tara Ward
The Award for Emerging Interior Design Practice supported by Space. The Australian Interior Design Awards are presented by the Design Institute of Australia and Artichoke magazine. For more images of this project, see the Australian Interior Design Awards gallery.
Source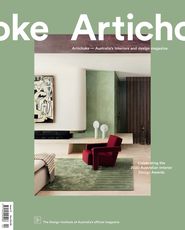 Issue
Artichoke, June 2020