Jury comment
Di Stasio Citta conveys a thorough investigation of the history of the restaurant, its restaurateur and the hospitality culture of Melbourne. One gets the sense a genuinely rigorous design process has taken place and the result is a strong conceptual offering that's original, brave and highly impactful. The jury was particularly impressed with the architects' commitment to art as a design element and applauded the seamless integration of multiple significant artworks throughout the space. Sustainability has been approached from the perspective of longevity, which is evident in the constr-uction, and one jury member commented that you can imagine the restaurant being here in 50 years' time. It's fresh and exciting, dramatic and theatrical, with a memorable experiential quality that has immense appeal for patrons.
Design statement
Restaurant, art gallery, institution – a unique crossing of Australia and Italy that is unlike anything else yet still represents the character of Di Stasio. Working in an existing shell, all the building faults and mistakes were hidden behind plasterboard and aluminium cladding. Hassell stripped everything back to the bare structure, revealing the concrete cracks and celebrating them. Originally, planning was restricted by the location of the bathrooms, which were forced to the centre of the main restaurant. A lengthy town planning battle finally allowed the bathrooms to occupy a narrow corridor on the facade. The outcome is Reko Rennie's neon camouflage Visible Invisible that adorns the facade. Locally crafted furniture was made specifically for the restaurant and built to last – nothing temporary. The only compromise was time. The terrazzo floor took over six weeks to complete bringing everything to a standstill on site. No concrete trucks, just two workers hand mixing and pouring. The result is an egalitarian, hard wearing finish.
Design practice — Hassell
Project team — Di Ritter, Bronwyn Uphill, Laura Casey, Scott Walker, Reko Rennie (artist), Shaun Gladwell (artist), Pidgeon Ward (identity)
The Award for Hospitality Design is supported by Oblica. The Australian Interior Design Awards are presented by the Design Institute of Australia and Artichoke magazine. For more images of this project, see the Australian Interior Design Awards gallery.
Source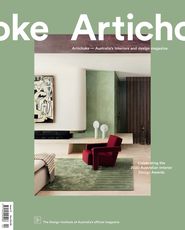 Issue
Artichoke, June 2020