Jury comment
The jury unanimously agreed this project represents interior design of the absolute highest standard. It's an incredibly sophisticated response to the renovation of an iconic 1929 pub and the designers have shown remarkable skill, while also fulfilling all programmatic requirements. Significantly, there's consideration of both the materiality and motifs relevant to the building's history, which sees the original Art Deco style retained yet delivered in a completely fresh, modern way.
Everything is exquisitely detailed, with a high commitment to craftsmanship, and the resulting continuity between spaces is strong. Overall, the concept is likewise rigorous, creating a welcoming ambience that appeals to diverse groups of patrons. The designers have ultimately achieved a durability and comfort that is all the more impressive for not having compromised on aesthetics. It's simply a beautiful outcome.
Design statement
Hotel Rose Bay was built in 1929, becoming an iconic pub in Sydney's eastern suburbs. The client's family have owned the hotel for generations and employed Richards Stanisich to undertake an overhaul to the venue. The design scope included the public bar and back-of-house areas, and the design team integrated a neighbouring retail shop into the new venue. The design concept was to create a relaxed pub that feels right in the neighbourhood and create multiple zones within the one venue. The team designed it to last and detailed it in such a way that the design aesthetic carries through to all components. The language of materials and details created are present in all parts of the venue – the furniture, wall panelling, lights and screens – so that the new design conveys a single statement in the history of the pub. The interior layout was derived from the efficiency of a long, double-sided bar attached to the kitchen, serving all areas. This minimized operational costs and allowed the design team to create a single bar in the centre with more open seating areas. Richards Stanisich improved the presence of the venue to the street by designing bi-folding windows with dry bars for customers to sit.
Design practice — Richards Stanisich
Project team — Georgia Harvey, Yvette Dunn, Fugen Constructions (builder)
The Award for Hospitality Design supported by Oblica. The Australian Interior Design Awards are presented by the Design Institute of Australia and Artichoke magazine. For more images of this project, see the Australian Interior Design Awards gallery.
For more coverage, read David Walsh's review of Hotel Rose Bay.
Source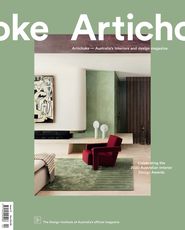 Issue
Artichoke, June 2020