Jury comment
The Articolo Lighting – Milan temporary installation demonstrates a mastery of interior architecture. It's a beautifully executed space that creates a calm refuge from a busy exhibition using natural light to showcase the products in a simple, restrained way. In this respect, it's a perfect backdrop for the light fittings on display, and successfully uses light as a device to sculpt form and evoke an emotive response from visitors.
It reminds us mass, surface and form only exist with light and it also recognizes that light can be described through darkness. Both bright light and darkness are present in the installation and in perfect unison serve to create a highly immersive experience. The jury commended the designer's singular vision and outstanding minimalist approach to spatial design, which uses the finest detailing and materiality.
Design statement
The project presents a bold yet understated exhibition space to launch Australian lighting brand Articolo in the European market at Salone del Mobile, Milan in 2019. The space was designed as a quiet refuge from the surrounding noise of one of the largest trade fairs in the world. The brief was to present a collection of products in a manner that best represented the brand and stood out among the thousands of other exhibitors. The internal space is partially concealed to passers-by with a single light fitting anchoring a deeply recessed entry portal, further delineated with a steel threshold and over-scaled walls conveying a sense of mass and solidity. Once through the entry threshold, visitors are greeted by a space that opens up, with the wall opposite curving through a bold arc beneath a large overhead void with walls appearing to disappear into the skylight above. A built-in joinery unit cantilevers below a more slender skylight at the other end of the space and contains material samples, collateral and storage for staff. Central to the space is a simple built-in bench that quietly anchors the space, its heavy block-like form contrasting against the finely detailed glass and metal light fittings.
Design practice — Studio Goss
Project team — Studio Goss
The Australian Interior Design Awards are presented by the Design Institute of Australia and Artichoke magazine. For more images of this project, see the Australian Interior Design Awards gallery.
Source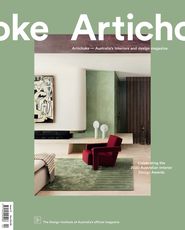 Award
Published online: 29 May 2020
Words: 2020 AIDA Jury
Images: Willem-Dirk du Toit
Issue
Artichoke, June 2020