Jury comment
Sydney Coliseum Theatre is an exemplar public design project. It has a clear and concise gesture in the grand sculptural stair that connects all the interior spaces, embodying the idea of performance. This principal circulation space anticipates the joy, spectacle and magic of the theatre and the design elevates the experience. A true journey is to be had by patrons, as they move through this open area, which is flooded with natural light from the ribbon windows during the day and is more ambient at night. An element of drama is added to the experience via the contrasting darkness of the theatre.
The jury unanimously agreed the relationship between interior design and the architectural fabric of the building is particularly successful, providing a sense of occasion through exceptional materiality and detailing. This is an outstanding civic project that creates a theatre experience accessible for everyone.
Design statement
The Coliseum is a 2000-seat multi-mode performance venue; a cultural hub in the centre of burgeoning Western Sydney. The conceptual narrative for the design stems from the concept of transcendence. The journey from the outside world to the magic of the performance is reflected through form, materiality and colour. The design brief was to design a 2000-seat theatre that could host musicals, concerts, plays, ballets and symphony orchestras, promote community engagement and showcase Western Sydney as a cultural hub. From the fluid facade to the undulating, layered atrium and theatre, the act of performance – from dance to sound – played a significant part in informing the design. A generous sweeping stair connects the multi-layered atrium, carving out multiple vantage points before the quiet calm of curtains up.
Design practice — Cox Architecture
Project team — Brooke Lloyd, Tim Morgan, Casey Vallance, Nuraishikin Salleh, Steve Hunter, Louise Montgomery, Mona Boettcher, Emma Spann
The Award for Public Design supported by Novas. The Australian Interior Design Awards are presented by the Design Institute of Australia and Artichoke magazine. For more images of this project, see the Australian Interior Design Awards gallery.
Source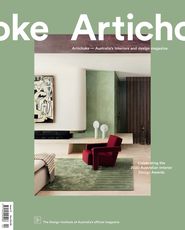 Issue
Artichoke, June 2020