Jury comment
This project overwhelmingly shows a confidence in the selection and curation of objects and furnishings. Its otherwise unremarkable floor plan has been elevated through a genuinely creative process, giving rise to a striking yet restrained colour approach. More importantly, it looks like an authentic interior, not one that's been styled for a photoshoot, and so presents as a highly personalized response to the client's brief.
The jury found the seamless integration between decoration and interior very appealing and was impressed with the innovative material palette, which is unexpected yet warm and inviting. Finishes complement the overall scheme and the contrasting bedroom treatments also add drama and elements of surprise. The attention to detail is outstanding and the art and furniture call attention to the home's handcrafted qualities, while highly textural surfaces lend it a rich, sensual appeal.
Design statement
Honed with an artisanal energy that celebrates whimsy and functionality, this hard-edged freestanding coastal house was transformed into a tactile haven. Celebrating nuanced colour and sculptural forms, Budge Over Dover features highly customized finishes and furnishings, nooks for respite and open areas that enhance interaction between inside and out. The clients wished to create a fresh start in their newly purchased home. Almost all the furnishings were custom-designed and purchased to imbue a nurturing, sculptural atmosphere thanks to myriad rounded elements and abundant natural materials. The entire house is steeped in craftsmanship, with the indelible mark of artisans found on almost every hard surface – from the shimmering strokes of the marmorino plaster walls and ceilings and the grainy finishes on the hemp-rendered fireplace, to the brusque caramel borders on the nursery walls.
Design practice — YSG
Project team — Yasmine Saleh Ghoniem
The Award for Residential Decoration supported by Sub-Zero Wolf. The Australian Interior Design Awards are presented by the Design Institute of Australia and Artichoke magazine. For more images of this project, see the Australian Interior Design Awards gallery.
Source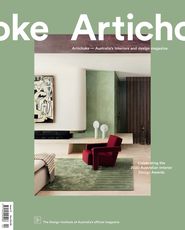 Issue
Artichoke, June 2020