Jury comment
There's currently a growing appetite amongst consumers for the knowledge and science behind what we buy, especially around products for health and wellbeing. Script Skincare's interior design perfectly meets this demand by demonstrating a new way to showcase skincare. To this end, a curious, elegant balance between high-technology science and humanitarian sensitivity has been expertly achieved.
The jury applauded the designers' fresh approach to gender neutrality, beauty and wellness, which has resulted in a bright interior that feels quite androgynous and also international in its handling of skincare branding. It's particularly successful in its use of scale, while possessing a multi-layered grasp of visual merchandising. Importantly, there's a real clarity and rigour to the detailing and materiality, which reject all preconceptions of what a beauty retail offering should be in this day and age.
Design statement
Script is born from a place of discovery. Toying with ideas of encounter and science, Script Skincare's unique interior is defined by a futuristic, yet human-centred design approach. The interior experience is multi-faceted; deliberately playful elements such as the luminous blue surfaces and objects are layered among a rigorous internal structure. Having a client at the cutting edge of their sector gave Hecker Guthrie the opportunity to design a retail space that rejects preconceptions about what it means to execute a beauty retail offering. By effectively communicating the Script brand values through an androgynous, scientific, future-forward aesthetic, Hecker Guthrie has provided a clear delineation between Script and its peers. Script's new retail space has become an embodiment of the brand. The store, which at once embraces technological innovation while expressing simplicity and purity through a restrained aesthetic, is a true reflection of the pillars on which the brand was built.
Design practice — Hecker Guthrie
Project team — Paul Hecker, Hamish Guthrie, Kymberley Gim
The Award for Retail Design supported by Laminex. The Australian Interior Design Awards are presented by the Design Institute of Australia and Artichoke magazine. For more images of this project, see the Australian Interior Design Awards gallery.
Source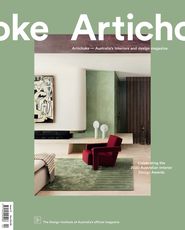 Issue
Artichoke, June 2020