Jury comment
Gillies Hall's exemplar project design demonstrates the ability to integrate sustainability through all the touchpoints in multi-residential student accommodation, from the living, sleeping and studying quarters through to the planning of communal and collaborative spaces. This is really exciting and visible sustainability put to great effect, with exposed CLT panels, the use of FSC timber and plenty of natural ventilation, all of which places people at the core of the sustainability proposition.
The project itself is currently the largest Passive House-Certified building in the southern hemisphere and Australia's first student accommodation combining PHC and cross-laminated timber construction. It targets Monash University's net-zero 2030 agenda and is progressive in its approach of this ambition. The jury was impressed by the way it pushes the boundaries on certification and agreed it is an outstanding example of how the power of design can be used to express sustainability.
Design statement
Gillies Hall has set a new benchmark in the industry for low-carbon construction and sustainable building design. Through its sustainable initiatives, it puts the health and wellbeing of its residents first and foremost. While the project was challenging, the outcome offers healthy, comfortable and engaging spaces for its students to live and study in. Interior spaces are generous, well ventilated, have consistent interior temperatures and offer rich views to its leafy native bush campus setting. The architecture and interiors are an exploration of joy and whimsy. The folding facade skin's five hues of burnt orange explore a dramatic response to the building's bush campus setting, while the interiors continue this dialogue in a manner that cherishes community and cohort. Through its sustainable agenda the building expresses the client's commitment to the wellbeing of residents and their long-term aspirations towards a net-zero carbon future.
Design practice — Jackson Clements Burrows Architects
Project team — AECOM (structural and fire engineer, services, acoustic, fire, passive house and ESD consultant), Grün Consulting (passive house certification), Buro North (signage and wayfinding), WT Partnership (quantity surveyor), GLAS Urban (landscape consultant), Ratio (town planner), Steve Watson and Partners (building surveyor)
The Award for Sustainability Advancement supported by Elton Group. The Australian Interior Design Awards are presented by the Design Institute of Australia and Artichoke magazine. For more images of this project, see the Australian Interior Design Awards gallery.
Source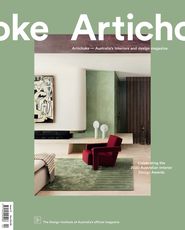 Issue
Artichoke, June 2020