Jury comment
This project is an interesting example of a bespoke workplace that's designed to marry product with function. Most impressively, it reveals the skill of the architect in the move from brief to idea and from idea to execution. There's a high level of clarity in the design thinking and the outcome truly responds to how the staff needs to use the space.
It's very clean and crisp and provides employees with the perfect backdrop to work with materials and colour samples on a daily basis. Ample custom storage and pin-up solutions are also provided and in this respect the scheme is extremely well detailed. The jury unanimously agreed this project demonstrates a mastery of interior architecture through the introduction of skylights, which allow for optimum colour rendering of the fabrics and a changeable human experience throughout the day.
Design statement
The design team drew on Warwick's expertise to create a timeless, sleek and sophisticated space that meets the client's needs now and into the future. The symmetrical white interior provides the perfect counterbalance to the bright colours and textures in Warwick's textiles, allowing the product to take centrestage. Every aspect of this innovative design maximizes efficiency and accuracy, inspiring creativity and improving productivity within the space. The colours of the textile range can be consistently viewed in this colour-managed interior with the use of six skylights generating an abundance of natural light throughout the workplace without the reliance on artificial light sources.
Design practice — Melanie Beynon Architecture and Design
Project team — Melanie Beynon, Alis Garlick
The Award for Workplace Design supported by Laminex. The Australian Interior Design Awards are presented by the Design Institute of Australia and Artichoke magazine. For more images of this project, see the Australian Interior Design Awards gallery.
Source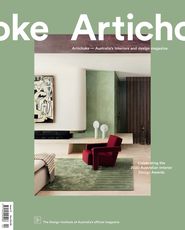 Issue
Artichoke, June 2020