Jury comment
Cantala Avenue House by ME champions the capacity of modest residential architecture to significantly impact the way we live in Australia. Sited within an unremarkable yet incredibly familiar suburban context, this alteration and addition to a ramshackle 1970s-era house offers its neighbourhood a welcoming communal space comprising a new brickwork entry sequence, planting and seating under a mature poinciana tree. The balance between public and private space has been skilfully navigated, with all the public zones of the home pushed to the street edge. The experience of the dwelling is expanded to encompass the street, demonstrating how design interventions can genuinely build community and neighbourhood.
Responding to its location on the Gold Coast, the house is a contemporary reinterpretation of the traditional beach shack – carefully avoiding replication, it is a playful and refreshing reinvention of this typology. It has civic respect, yet individualism. Standard or everyday materials and accessories, and the reuse of the existing structural systems, reveal the architect's masterful ability to create architecture where it might otherwise not exist. Equal priority has been given to indoor and outdoor spaces, appropriately embracing the subtropical climate. Both the existing plan and the new addition are punctuated with planted courtyards to maximize natural light and ventilation, while minimizing heat from the harsh western sun.
The broader context of the world's current challenges – the climate emergency, global pandemic and economic downturn – calls on us to reflect on what is truly important and what we essentially need to live well. Cantala Avenue House is an alteration and addition that celebrates a simple life. ME has solved ordinary design problems in an extraordinary way, reconsidering the suburban status quo and pushing boundaries, literally and figuratively – and all within a reasonable budget.
The Award for Australian House of the Year is supported by Cult. See full image galleries of all the winning and shortlisted projects here.
For more coverage, read the project review by Sheona Thompson.
Credits
Architect

ME
Gold Coast, Qld, Australia
Project Team

Matthew Eagle, Samara Hayes, Shane Collins
Consultants

Builder Ivey Built
Engineer Rymark Engineers and Westera Partners
Surveyor Alan Sullivan and Associates

Site Details

Location Gold Coast, Qld, Australia
Site type Suburban

Project Details

Status Built
Completion date 2019
Category Residential
Type Alts and adds

Source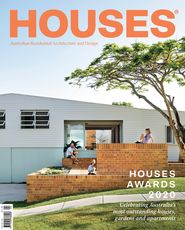 Issue
Houses, August 2020
Related topics