Jury citation:
Stephen Choi has had an extremely diverse career spanning education, advocacy and practice. He has engaged to effect change across multiple areas of the value chain to deliver more sustainable built environments.
Choi's academic involvement commenced at the University of East London and continued at UTS. He went on to complete an Australian-first research project with University of Wollongong and Macquarie University, managing the retrofit of 185 individual homes, all occupied by low-income pensioners. This project has been a key pillar to demonstrate the human face of energy poverty and the social impact of energy efficiency. Choi is now an Honorary Fellow of the Sustainable Buildings Research Centre at the University of Wollongong.
Choi has been a long-term advocate for sustainability, engaging with the architecture profession at sustainability and design conferences and with the general public through mainstream and social media. In his words, Stephen focuses his effort on "those in society who are usually forgotten, those with the most unmet needs, and those who usually have no access to architects or any professionals more broadly." This advocacy is also integral to his current role as the Executive Director of Projects at the Living Future Institute Australia.
The jury was particularly impressed by Choi's ability to translate principles into practice. Stephen is the Living Building Challenge Manager for Frasers Property, which is aiming to build the world's most sustainable shopping centre in Burwood, Victoria. Named Burwood Brickworks, the project is set to be Australia's first to receive Living Building Challenge certification and the first in the world to focus on a retail centre. It has been recognized with a 6 Star Green Star Design and As-Built v1.1 (Design Review) rating. The project features Australia's first rooftop urban farm within a shopping centre, is self-sufficient for energy and recycles its own water.
Jury
Helen Lochhead LFRAIA – President, Australian Institute of Architects | Dean, UNSW Built Environment
Deo Prasad AO FRAIA – Chief Executive Officer, Cooperative Research Centre for Low Carbon Living | 2019 Leadership in Sustainability Prize recipient
Melonie Bayl-Smith FRAIA – Director, Bijl Architecture | Adjunct Professor, UTS School of Architecture
Davina Rooney – Chief Executive Officer, Green Building Council of Australia
In a special dossier of the climate and biodiversity emergency (published in the May/June issue of Architecture Australia) Stephen Choi outlines the practical steps architects can take to design in a way that will save the Earth. Purchase the magazine on Zinio.
Source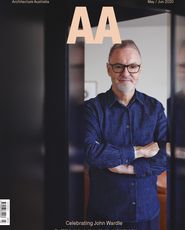 Issue
Architecture Australia, May 2020
Related topics