Jury citation:
In 2020 the National President's Prize is awarded to the Lord Mayor of Sydney, Clover Moore. A vocal advocate of quality architecture, progressive policies and ambitious action on climate change, her vision and leadership in politics for more than 30 years has systematically transformed the City of Sydney into one of our most livable cities. Under her mayorship, the City of Sydney has developed a global reputation for delivering award-winning buildings, open spaces and transport infrastructure; for advocating design excellence as public policy; for supporting creative industries; and for initiating progressive solutions to complex social and environmental challenges.
Moore entered politics out of concerns for social and environmental justice and the degraded urban environment in her local inner-city community. Her advocacy for architecture and high-quality built environments for all stems from these concerns.
Moore has been Lord Mayor of Sydney since 2004. In the role, she has led the development and implementation of the City of Sydney's long-term plan, Sustainable Sydney 2030. Tellingly, this plan includes many ideas from the city's notable architects and urban designers and sets the stage for Sydney to become a world leader in sustainability and livability. With ambitious targets to reduce greenhouse emissions, the City became Australia's first climate-neutral council in 2007. In 2020 it will be powered by 100 percent renewable energy and is on track to reach net zero emissions by 2050.
As Lord Mayor, she is determined to have a better urban environment. To increase the certainty for residents and developers, she oversaw a massive review and consultation process to frame new planning controls and innovative policies. This includes the landmark Competitive Design Policy, which requires design competitions for major sites in the city. The initiative has lifted the design quality of major developments and at the same time created new opportunities for both established and emerging architects.
Moore has also been a champion of architecture through the City's own projects, commissioning innovative public buildings, facilities, open spaces and public art imbued with broader social, cultural and environmental goals. Here, too, the City has provided diverse opportunities for both eminent and emerging architects, landscape architects and urban designers.
These exemplar projects have not only rejuvenated the city's streets, squares and green spaces but are also, in the main, award-winning projects. Exemplars include the Green Square Library and Plaza, Surry Hills Library, Prince Alfred Park and Pool Upgrade and the Joynton Avenue Creative Precinct, to name a few. There are many more, with others in the pipeline.
Furthermore, demonstrating an understanding of the value architects can bring more broadly, the City has employed architects in key city executive, planning, design and project roles as well as expert advisory roles on design, planning and public art advisory panels.
Moore's commitment to the creation of a lively, livable and just city is to be applauded, and I am pleased that she sees the intrinsic value that architects and well-designed places bring to the realization of this agenda.
It gives me great pleasure to award the 2020 National President's Prize to Sydney's Lord Mayor, Clover Moore.
Jury
Helen Lochhead LFRAIA – President, Australian Institute of Architects | Dean, UNSW Built Environment
Source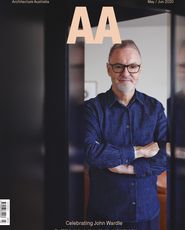 Issue
Architecture Australia, May 2020
Related topics