Jury citation:
Launched in 2012, Parlour is synonymous with gender equity in architecture. Combining research, education, advocacy and engagement, Parlour's work has led to significant changes in policy, structure and attitudes across the profession in Australia and increasingly around the world.
The activist and advocacy work of Parlour is based on scholarly research developed through the 2011–14 research project Equity and Diversity in the Australian Architecture Profession: Women, Work and Leadership. Other initiatives include the Parlour Guides to Equitable Practice; Marion's List (an online register of women active in the Australian built environment professions); WikiD: Women, Wikipedia, Design; two symposia; Seasonal Salons in cities across Australia; and the most recent research report, Parlour Census Report 2001–2016: Women in Architecture in Australia, which extends the mapping of women's participation in the Australian profession.
Parlour's research and advocacy led to the development of the Gender Equity Policy for the Australian Institute of Architects and the establishment of the National Committee for Gender Equity, which has successfully championed for significant reform across the organization.
While Parlour has many contributors, it has most notably been led by six women: Naomi Stead, Justine Clark, Julie Willis, Gill Matthewson, Susie Ashworth and Karen Burns. Each has made longstanding and significant contributions to gender equity. Current Parlour office holders also include Alison Cleary and Sarah Lynn Rees.
Parlour's compelling and wide-reaching projects work to transform architecture into a more equitable and robust profession, and demonstrate outstanding leadership in gender equity in architecture.
Jury
Clare Cousins LFRAIA (Chair) –Immediate Past President, Australian Institute of Architects | Director, Clare Cousins Architects
Anne Clisby RAIA – Co-Chair, National Committee for Gender Equity, Australian Institute of Architects | Associate Director, Denton Corker Marshall
Melonie Bayl-Smith FRAIA – Co-Chair, National Committee for Gender Equity, Australian Institute of Architects | Director, Bijl Architecture | Adjunct Professor, UTS School of Architecture
Chris Morley RAIA – EmAGN President's delegate | Co-Chair, SA EmAGN, Australian Institute of Architects | Director, Echelon Studio
Gina Engelhardt –President, SONA, Australian Institute of Architects | Student of Architecture, Hassell
Source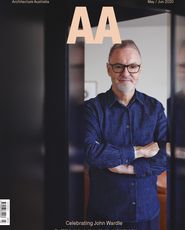 Issue
Architecture Australia, May 2020
Related topics