THE HIGH COURT OF AUSTRALIA
EDWARDS MADIGAN TORZILLO BRIGGS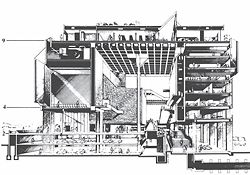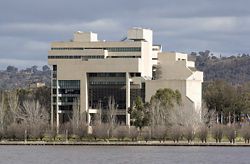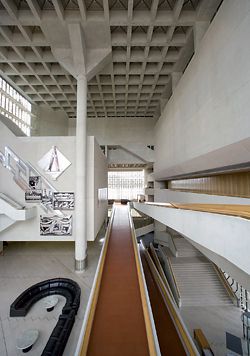 JURY CITATION
The High Court of Australia is one of our nation's most outstanding examples of modern architecture. It is also a building with extraordinary symbolic and ceremonial power and is remarkable in its evocation of democracy, the rule of law and the role of this peak institution within the national capital.
The design was the result of a competition held in 1972. Construction commenced in 1975 and the building was completed in 1980.
The architectural design embodies the civic aspirations of the High Court of Australia. The external promenade, with a water course leading to the building forecourt and the high glass walls, conveys both monumentality and accessibility. The location of the courts within the grand volume of the public space, and connected by the ramp promenade, suggests an openness to the court functions. The ceremonial ramp within the building offers visitors and users an experience of the courts that places the public literally at the centre of the institution. The highly crafted quality of the building – from its bush-hammered concrete structure to the timberwork and court joinery – works to convey the significance and importance of the courts. Commissioned and integrated artwork further adds to the public spaces. In its materiality the building is made to last, emphasizing the permanent role of the court within the life of the nation.
Combined with the adjacent National Gallery of Australia, by the same architects, the High Court occupies a truly significant space in the nation's capital and within the history of Australian architecture.
The High Court, along with the National Gallery, is one of nine Australian buildings/complexes nominated by the RAIA to the UIA World Register of Significant Twentieth Century Architecture. In 1980, it was awarded the RAIA (ACT) Canberra Medallion.
The High Court of Australia
Architect
Edwards Madigan Torzillo Briggs International.
Mechanical and hydraulic engineers
Frank Taplin and Partners.
Structural engineer
Miller Milston and Ferris (Engineers).
Electrical and fire services engineers
Addicoat Hogarth Wilson.
Acoustic consultant
Peter R. Knowland and Associates.
Quantity surveyor
D.R. Lawson Associates.
Landscape
Harry Howard and Associates.
Contractor
P.D.C. Construction (ACT).
Client
National Capital Development Commission.
Photographer
Ben Wrigley.