The Wharf Theatre
Vivian Fraser in association with NSW Government Architect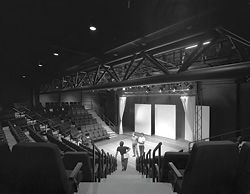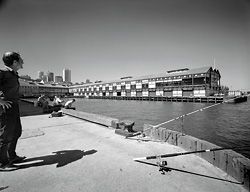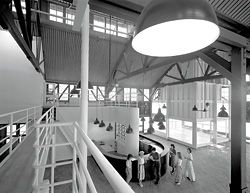 Jury Citation
Presenting The Wharf with a major award in 1985, the then Institute of Architects awards jury citation read as follows: "It establishes discourse with an existing building, a turn-of-the-century timber cargo wharf, whose original purpose was obviously far removed from the world of theatre. Wisely, Fraser elected to regard his new work as simply another layering of the old building's history. This means that he did nothing to obscure the visual integrity of the wharf and made sure that the new work was clearly distinguishable as a layer – albeit a transparent one – which allows us to see through to something older underneath."
Today the Wharf remains substantially as the 1985 jury found it, testimony to the lasting value of excellent architecture. The context of The Wharf has changed significantly, with further successful examples of the adaptation of historic wharf structures integrated with new structures of the same type nearby at Walsh Bay and beyond in Darling Harbour, Pyrmont and Woolloomooloo. The high quality of the architecture in these more recent developments is attributable in large part to The Wharf as an exemplar.
The Wharf remains an international benchmark for this type of architectural project. It represents a skilful blend of sound urban design, conservation, adaptive reuse and contemporary architecture and as a consequence is an essential aspect of Sydney's urban culture. The Wharf remains an essential community and tourist facility after more than two decades of continuous, robust use.

Architect NSW Public Works Department: J. W. Thompson (Government Architect), A. Andersons (principal architect), in association with Vivian Fraser—project architects David Churches and Vivian Fraser; supervising architect Michael Fletcher.
Structural engineer Ove Arup and Partners.
Electrical engineer Barry Webb and Associates.
Mechanical engineer Chan Associates.
Hydraulics Bruce Arundell and Partners.
Lighting Entertech.
Acoustics Peter Knowland and Associates.
Quantity surveyor Cameron and Middleton.
Flexible seating system John Blackler.
Builder Commercial Industrial Contractors.
Client Office of the Minister for the Arts and Sydney Theatre Company.
Photographer Max Dupain.

See Architecture Australia Awards 1985.