$2b entertainment precinct in Brisbane closer to reality
The Queensland government and developers AEG Ogden will meet on Friday to discuss whether a proposal for a $2 billion entertainment precinct for central Brisbane should advance to the second stage of the state government's market-led proposals process.
First mooted in 2016, the Brisbane Live proposal spent 12 months in review as part of the first stage of the market-led proposals assessments, which involves informal discussions between the proponents and the government.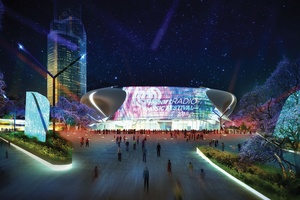 Designed by NRA Collaborative, Brisbane Live comprises a 17,000-seat Brisbane Arena, three new commercial towers, residential developments and 12 hectares of landscaped parkland. The project would be constructed over three rail lines of the Roma Street railyards: the existing suburban track, the under-construction Brisbane Metro and the proposed Cross River Rail line. Brisbane Live would adjoin the Roma Street parklands to the north.
Market-led proposals allow private companies to put forward development proposals for government-owned land. The second stage of the market-led proposals process is, according to the Queensland Treasury, "equivalent to preparing a detailed bid during a competitive tender process" in terms of time and effort. The state government will decide whether or not to commit to the project at the end of the process.
Other projects that have made it to stage two of the Queensland government's market-led proposals initiative are the Queensland Aquarium and Maritime Museum on Brisbane's Southbank, designed by aquarium specialists Crossley Architects, and the Brisbane International Cruise Terminal. Only one proposal, enhancements to the Logan Motorway, has been approved at the final stage.
The Brisbane Live proposal is modelled on L.A. Live in Los Angeles, a previous entertainment complex project by developer and venue management company AEG Ogden. Elsewhere in Australia, AEG Ogden owns and operates the recently completed Hassell- and Populous-designed International Convention Centre in Sydney. 
The Brisbane Live proposal is one of several in Australia that would develop the space above railway lines. In March 2017, plans were released for a residential tower that would straddle a railway line in the Melbourne suburb of Windsor, designed by JCB Architects, Aspect Studios and SJB Planning. In 2014, the Victorian government sought private-sector proposals for a section over the Jolimont rail yard to the east of Federation Square. In Perth, a proposed twin-tower World Trade Centre complex designed by Woods Bagot would cover over a section of the railway line between Perth and McIver stations in the central city.