Architecture in Victoria has a lean, green home – 41X, a new building by Lyons Architecture for the Australian Institute of Architects at 41 Exhibition Street, Melbourne. On Monday 3 March the buildling was officially declared open by the Governor-General of Australia, Her Excellency the Honourable Quentin Bryce AC CVO, in the presence of the Australian Institute Architects national president, Paul Berkemeier, and CEO David Parken, along with invited guests and media.
41X is a lean twenty-two-storey tower occupying a small footprint (285-square-metre office floor plate) on the corner of Exhibition Street and Flinders Lane. The building is a hub for architecture, Institute members and the general public, and five of its floors are occupied by the Institute's Melbourne offices, including the Victorian Chapter. The ground floor is a design haven housing the Architext bookshop, a dedicated seminar space and a cafe run by Axil Coffee Roasters. This level will be activated by a program of public events being developed by the Institute. Bicycle storage and change rooms are below in the basement, and the nineteen office levels are crowned by a rooftop terrace.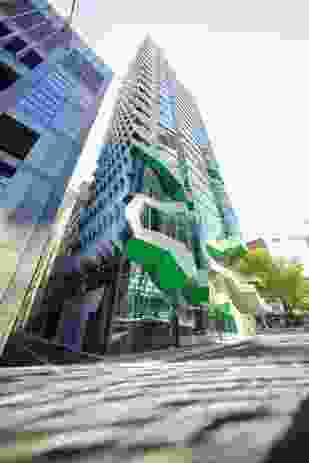 With its 5-Star Green Star and 5-Star NABERS Energy (base building) ratings, 41X is the first strata-titled commercial office building in Melbourne to target carbon neutrality over its thirty-year operating cycle. "We believe this is the first strata-titled commercial building in Australia that incorporates a sustainability charter binding owners and tenants to the goal of achieving carbon neutrality," says Institute CEO, David Parken.
According to Lyons Architecture director, Adrian Stanic, "The design explores the idea of joining together a public and commercial building, by connecting the city street space with Institute occupied levels. A major stair, visible from Flinders Lane, facilitates this and makes public engagement a focal point of the building. The project is unique in the Melbourne city commercial market, allowing owners or occupiers to create their own identity on small-footprint whole floors within the building, creating a distinctively vertical business community on this city corner."
The redevelopment of 41 Exhibition Street began in 2006 when the Institute commissioned a feasibility study for the site, canvassing a range of options including renovation and relocation. The Institute's National Council decided to redevelop the site into a small office tower that would set new standards in quality Australian commercial architecture, and in 2008 held a two-stage design competition with Lyons winning the commission to design the building and Hassell selected (in 2012) to do the workplace fitout for the Institute's five floors.
"This elegant addition to Melbourne's CBD makes a bold statement about the value of design. With this building, the Institute is strongly reinforcing the value of architects and architecture to the sustainable growth of our community – tangibly fulfilling its mission of making the world a better place through architecture," said Her Excellency, the Governor-General.
Related topics