This is a tight, 92 square metre site, in the Sydney tradition of wedge-shaped sites that can be found dotted around the inner city. An exterior of curved concrete walls is both subtle and elegant, the exaggerated curved cornice giving the building a sculptural quality from the street and an unusual edge to the sky. Walls are punctuated by steel plate frames, which denote various opening types.
The building scale is in harmony with its surrounds, yet there is a distinctive presence in its form and its mosaic-tiled facade, whose soft colours glisten day and night. The curved building language continues internally, through elements such as the restaurant bar and ceilings.
The building is fully occupied, with restaurant, nightclub and architects' offices. A rooftop function area adjoins a lush rooftop garden with framed views of neighbouring residential and commercial Sydney. The building has a spacious quality created by its simple, elegant palette, column-free space and good daylight penetration. The budget is considered, and devices such as curved glass are used judiciously but to maximum effect. Nothing is redundant.
The architects have carefully crafted an engaging but relaxed building that can accommodate a range of commercial uses and interior fitout characters. Each interior fitout sits comfortably within the building while expressing its individual "personality". For the jury this gave the building a particularly human quality and a strong sense that the building would adapt gracefully to changes in commercial use over time – a mark of an exemplar commercial building.
– Jury citation
Credits
Architect

Durbach Block Jaggers Architects
Sydney, NSW, Australia
Project Team

Neil Durbach, Camilla Block, David Jaggers, Lisa Le Van, Stefan Heim, Deborah Hodge, Brigitte Thearle,
Consultants

Andrew Darroch
Accessibility consultant Morris Goding Accessibility Consulting
Builder and construction manager Beebo Constructions
Commercial kitchen Austmont Catering Equipment
Electrical consultant Shelmerdines Consulting Engineers
Environmental consultant Aurecon
Fire engineering Stephen Grubits & Associates Sydney
Heritage consultant Stephen Davies
Hydraulic consultant Whipps Wood Consulting
Mechanical consultant Nappin and Associates
Planner Mersonn Pty Ltd
Structural consultant SDA Structures

Site details

Location 5–9 Roslyn Street, Kings Cross, NSW, Australia
Site type Suburban
Category Public / commercial
Type Commercial

Project Details

Status Built

Source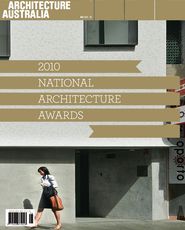 Issue
Architecture Australia, November 2010
Related topics