Hassell has revealed newly approved designs for a thirty-two-storey tower at 60 Martin Place in Sydney. The practice won the commission following an international design competition with six local and international contenders.
The development is owned by Investa Office and Gwynvill Group, which proposed a $750-million office tower to replace the existing building, originally designed by PTW. The site is at the eastern end of Martin Place, bounded by Phillip and Macquarie Streets to the east and west, and is also adjacent the heritage listed St Stephen's Uniting Church to the north. Prior to submitting its planning application, Investa convinced St Stephen's church to agree to amalgamate their land titles, which would allow for a larger structure, in return for a financial contribution to the church's maintenance costs, and free use of the proposed development's carport for weekend churchgoers.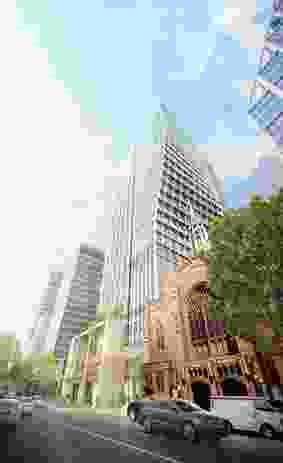 Hassell's head of design – architecture, Tony Grist said, "The copper spire of the church has been a strong influence on the form of the new tower." Sitting atop a sandstone podium, the top-heavy tower curves away from the church, with smaller floor plates at the lower levels "giving it breathing space," said Grist. "From the street level, the image of the spire will be reflected and scattered in the facade."
The 6-star Green Star-rated building will have a total lettable area of 40,000 square metres with flexible, interconnected workspaces and a rooftop garden. The public areas of the development will include both indoor and outdoor cafes, restaurants and event spaces as well as rooftop bars with views to Sydney's Opera House, the harbour and the Botanic Gardens.
The existing building will be demolished in early 2016 when its current tenant, Westpac, relocates to Barangaroo South. Construction is expected to be completed in 2019.
The development joins a suite of sites dotted along Martin Place which are earmarked for renewal. The new Macquarie Group building at 50 Martin Place by Johnson Pilton Walker (completed in 2014) is the first development to kickstart the era of the precinct, which also include the MLC Centre (19 Martin Place) by Seidler & Associates and Woods Bagot (under development application), refurbishments to 1, 5 and 20 Martin Place, and at the western end, 333 George Street by Grimshaw Architects (due for completion in 2016).