Designs for a $700 million mixed-use development surrounded by the 44-hectare Sydney Park in Alexandria have been submitted to the City of Sydney for approval.
The development, designed by MHN Design Union, Silvester Fuller and Sue Barnsley Design, will comprise eight buildings housing 390 apartments and a range of commercial, cultural other uses.
The team won a competition to design the project in 2017 over three other rival teams. The UK-headquartered Make Architects also joined the winning team and will design the interiors.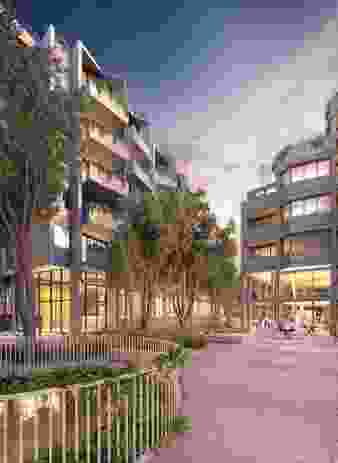 At the time of their victory, MHN Design Union, Silvester Fuller and Sue Barnsley Design said in a joint statement, "Our concept vision for One Sydney Park imagines the creation of a new park-side community. A place [that] will extend the ecology of the parkland and support a culture of creative enterprises and local business."
Four of the eight proposed buildings will be sited along Euston Road, which will form a street wall and a protective barrier between the busy road and the park-side buildings.
The remaining four buildings will be arranged in a fan-like formation around a central plaza and oriented towards the park. "Threads of parkland [will be] drawn in between the buildings towards the plaza," said the architects.
"The park is invited into the site as a folded, layered and diverse landscape with a new public plaza, connected to the park and complementary in its amenity. Recognition of the contextual diversity of this place has informed the architectural language, resulting in park-side buildings which feather at its edges, dissolving the boundary between building and landscape."
The base of the buildings will be made from brick and stone, which are intended to ground the buildings into the earth. The upper floors will be made from lattice-like framing, drawing inspiration from the canopies of the parkland setting.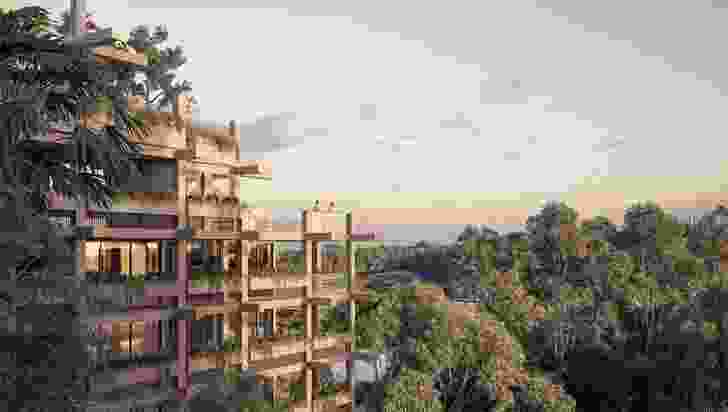 "Above the brick base the upper layers are expressed as a more light weight overlapping framework that fragments and feathers into the surrounding park and towards the sky. The blurring of the building edges mirror the surrounding tree canopies and their silhouette on the skyline."
The building on Euston Road will be covered in an undulating "veil" that will be covered in vines and climbing plants. The veil is intended to filter air and mediate the view across Euston Road and the under construction Westconnex motorway.