Review Naomi Stead
Photography Brett Boardman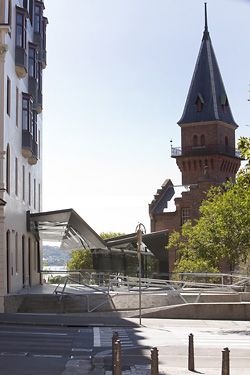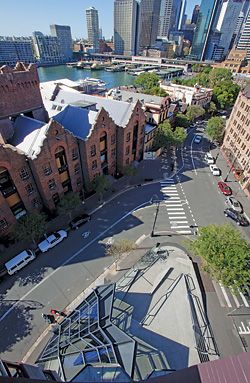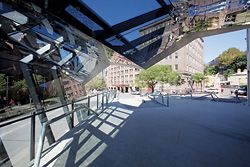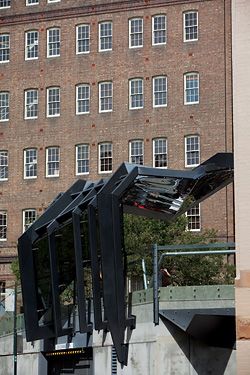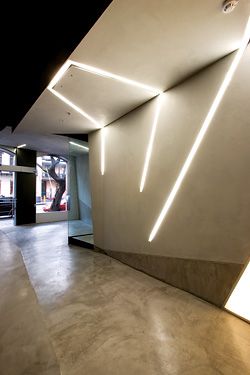 If you're in the market for a crystal ball, a handpainted ceramic mug, a framed historic photograph of Bondi, a packet of Australian bush dukkah or a bottle opener fashioned from stuffed kangaroo scrotum, then The Rocks in Sydney is the place for you. And the best time to go will be the weekend, when the tail end of George Street is closed to traffic and filled with stalls as part of The Rocks Market. At the starting point of this street closure is a building and scrap of open space that belong to the Sydney Harbour Foreshore Authority (SHFA), both of which are the subject of recent work by Terroir.
It is a dramatic corner – a small wedge of public space projecting outward from the old Bushells warehouse, now a State-heritage-listed building. On a hairpin promontory, the site is bounded on the downhill side by the swoop of Hickson Road and on the uphill side by George Street, which by this stage has lost the momentum it gathered on a thunderous run along the ridgeline through the CBD, overshooting the turnoff to Circular Quay before petering out in the shadow of the Harbour Bridge on ramp. The pedestrianized Playfair Street adds another element to the intersection, disgorging crowds of shorts-and-backpack-wearing, corn-on-the-cob-eating, map-consulting wanderers directly across the road from the site.
Both Blackett and Vernon worked on the original building ("Two Government Architects had a go at it," says Gerard Reinmuth of Terroir), which was actually two interconnected warehouses, built in 1886 and 1912 respectively and refurbished several times since then. During an earlier conversion into offices, the interiors were gutted and the floors and structure replaced, making the facades the most significant remnants of the building. This most recent work on an already much-worked building thus comprised a series of small interventions. In a major program of renewal begun in 2007, SHFA had a number of practical goals including upgrading fire protection and services, improving disabled access, refurbishing the commercial and retail spaces, and creating a new public space. Coming to the project at DA stage, Terroir reworked the outdoor space into a podium with service area beneath and a canopy overhead, associated with a new cafe tenancy on the ground floor. They also refurbished the communal foyer space and retrofitted an array of services throughout the building. It is primarily this latter part of the project that has earned it a Five-Star Green Star Office Design Rating from the Green Building Council, a first for a State-heritage-listed office building.
Chris Arkins, from services consultant Steensen Varming, notes that as the existing building already had good passive environmental attributes (a thin floor plate, relatively high mass, openable windows and high ceilings), the task was to design a cohesive system that could work in a subtle and complementary way. A feature of the Green Star rating system is that it takes into account more than just one category (such as, say, energy-efficiency or greenhouse gas emissions) and instead covers a broad spectrum of sustainability initiatives, which in this project includes recycling and waste management strategies, bike parking, the use of low-water-use fixtures and fittings, mixed-mode mechanical systems and the project's pièce de résistance – a precinct-wide harbour heat exchange, which will come into use next year. Both Arkins and Reinmuth argue that the challenges of achieving a Five-Star rating in a heritage building are considerable, and that the various certification systems should give more weight to the reuse of built fabric, instead of examining adaptive projects in the same light as new buildings. Be that as it may, it is a laudable achievement for architects, consultants and clients alike to have met this goal.
Outside the building, Terroir's strategy of elevating the public space to a podium is a smart one – it defines the space, maximizes views, provides protection from heavy traffic and offers an elegant means to deal with the lateral fall in level across the site. The space becomes something of an island or, in Reinmuth's words, a kind of "little iceberg". Nibbled, shaved and faceted away, it sprouts seats and handrails in a tough material palette of galvanized steel and concrete. The kinked stair at the pointy end of the site is a particularly formally graceful and functionally effective negotiation of a tricky three-dimensional corner.
To link all this with Terroir's oft-articulated philosophy on architecture and landscape seems to me a bit of a stretch, but nevertheless there is something of the artificial plateau here, artfully angled and ramped. In fact, if this is a landscape it is most like the kind of abstracted urban "landform" seen in skate parks, where terrain is elevated to a formal principle and the role of stair blends into that of bench into that of handrail. This artificial terrain effect seems less successful in the refurbished foyer inside, where the use of wrapped and ramped concrete and steel seems mannered – and also rather poorly detailed, for instance in the wall cladding of clear-finished plate steel. But on the outdoor podium it works well -– as a continuous field of slopes, steps, rails and falls, scattered with abstracted artefacts which are as much urban playground equipment as obstacles, it sets up the user for a spritely two-step with gravity. This play on weight and lightness is continued in the overhead canopy, an angular, Richard Goodwin-esque chunky pterodactyl wing half-draped, half-clamped between the edge of the podium and the building. Constructed of thick hollow-section steel, in a chunky web-like geometry, this is the most visually striking part of the new work. But as the Five-Star Green Star rating attests, the project is about more than spectacular gestures.
Reinmuth argues that a younger generation of architectural practices – of which he regards Terroir to be a member – has been locked out of inner-city public space projects in Sydney in favour of large, well-established and establishment offices. This project, he argues, is a rare chance for his generation to strut their stuff. It remains to be seen whether, in an effect parallel to the impact of the recent NSW small bars legislation, opportunities will now flow for young, small, experimental firms to make public space in Sydney.

Dr Naomi Stead is a Postdoctoral Research Fellow in the Architecture Theory Criticism History group at the University of Queensland.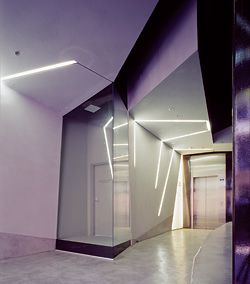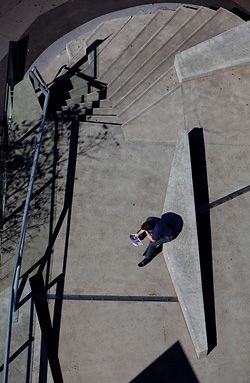 86—88 GEORGE STREET, THE ROCKS

Architect
Terroir—project team Gerard Reinmuth, Richard Blythe, Scott Balmforth, Tamara Donnellan, Robert Beson, Nic Fabrizio, Justin Hanlon, Shaun Miller, Matt Skirving, Moritz von Stuenzner, Emma Trask, Sarah Benton

Quantity surveyor
Chris Bylett and Associates.

Heritage architect
Design 5.

Structural engineer
Simpson Design Associates.

Mechanical and electrical engineer and lighting design
Steensen Varming.

Hydraulic and fire services engineer
Warren Smith and Partners.

BCA consultant and fire engineer
Trevor R. Howse.

Acoustic consultant
Acoustic Studio.

Client
Sydney Harbour Foreshore Authority.