Just under 100 buildings across Brisbane will throw their doors open to the public on 7 and 8 October for Brisbane Open House.
Joining 70 buildings that are making a repeat appearance at the event, 29 new buildings have been added to the program this year across wide variety of typologies and uses – from signficant heritage buildings to freshly minted examples of contemporary, cutting-edge architecture.
To help you navigate the event, ArchitectureAU has compiled an itinerary of noteworthy new additions: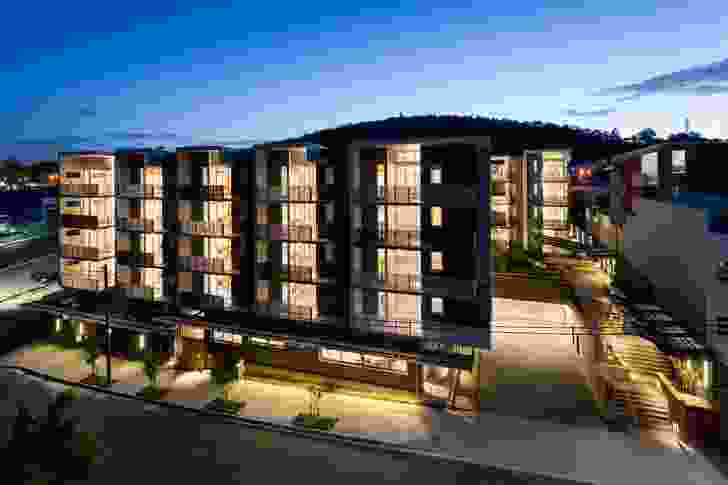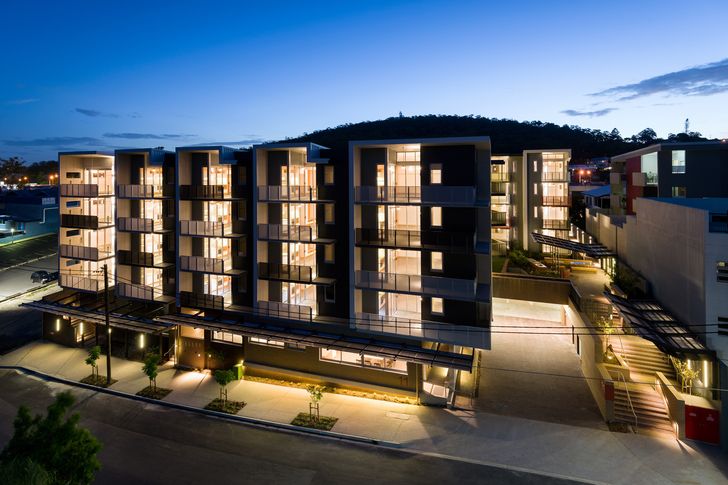 Caggara House
Designed by Brisbane-based practice Arkhefield, this housing complex in Mount Gravatt East by community housing provider BHC and the Department of Housing and Public Works was intended to offer a way for seniors to voluntarily downsize without being pushed to the urban fringe, keeping them involved with the community and freeing up larger affordable homes for families.
Guided tours of the complex will run on Sunday 8 October. For more information, go here.
Architects studios – (15 of them)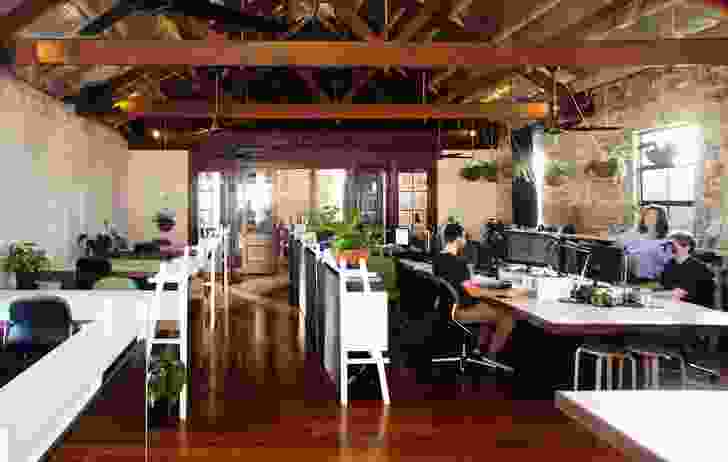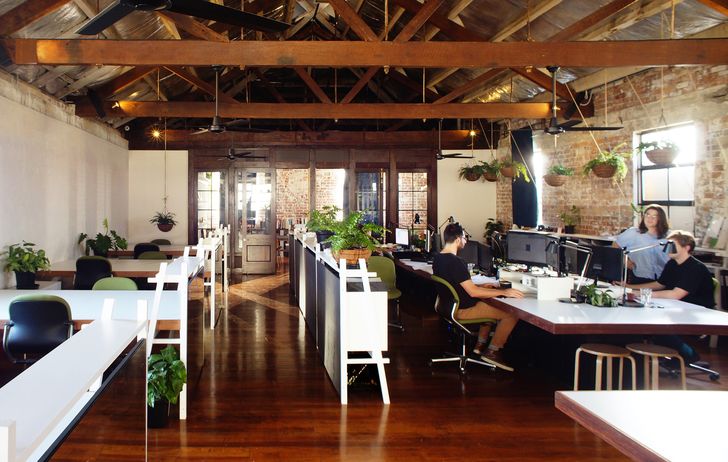 Of the 30 new buildings that appear in the 2017 Brisbane Open House program, eight are the offices or studios of Brisbane architecture and design practices or the Brisbane studios of national practices.
The studios of Hames Sharley, Richard Kirk Architect, Cottee Parker, Marc and Co, Myers Ellyett, Base Architecture and Vee Design will all open over the weekend, joining seven other studios for a total of 15.
For the full list of open studios, go here.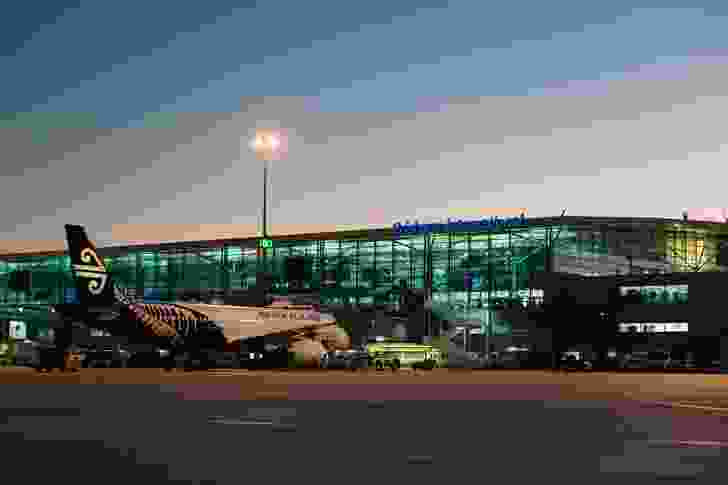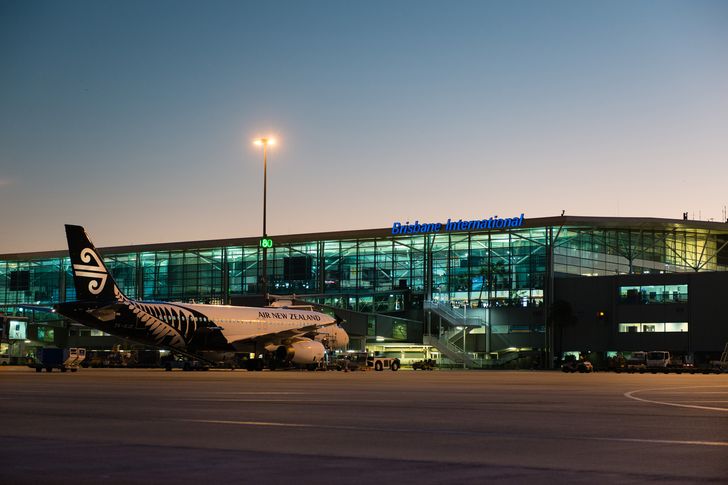 Brisbane Airport
One-day-only tours of Australia's third-largest airport will feature behind-the-scenes access to both terminals at Brisbane Airport.
Originally designed by Bligh Voller and built in 1995, the international terminal has been lauded for its architecture, while its interiors were less fondly received. Writing for Architecture Australia in 1996, John Hockings praised the "exciting, innovative and purposeful" design, but decried the commercial spaces as being a "clumsily inserted […] layer of commercial artifice, less-than-honest structure and unconvincing landscaping."
But not anymore. Brisbane practice Richards and Spence collaborated with Arkhefield on an upgrade to the retail areas in 2015 that aimed to capture the essence of Queensland and Brisbane, inviting the outside into a secure, functional space.
Reviewing their work for Artichoke magazine in 2016, Sheona Thompson wrote that the upgrade represented a "remarkable alignment of many intellects, agents and actors. It blends a heartfelt corporate ambition for making a great airport peerless with a confident and sophisticated design approach."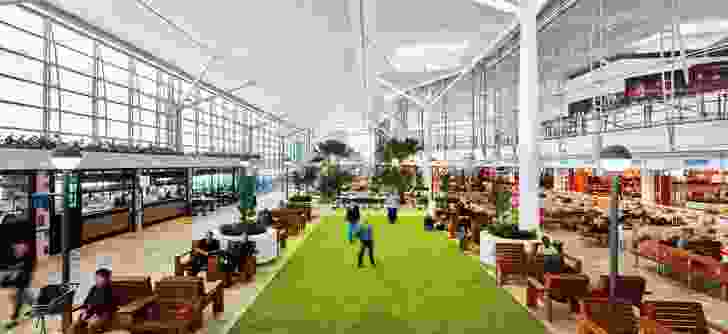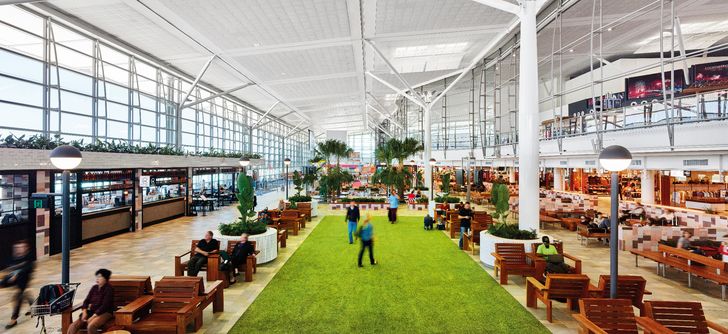 Recent refurbishments of the domestic terminal, built in 1988, have restored the architectural intention of Bligh Robinson Architects, exposing the internal domed roof life and drawing natural light into the interior.
Tours of Brisbane Airport on Saturday 7 October can be pre-booked here.
Anna Meares Velodrome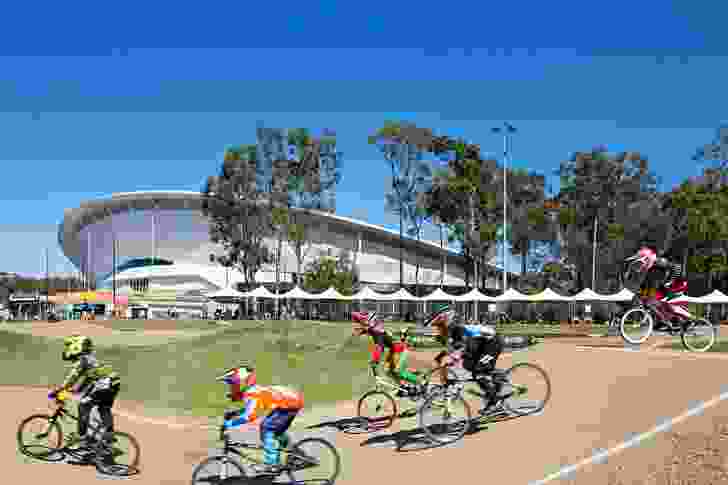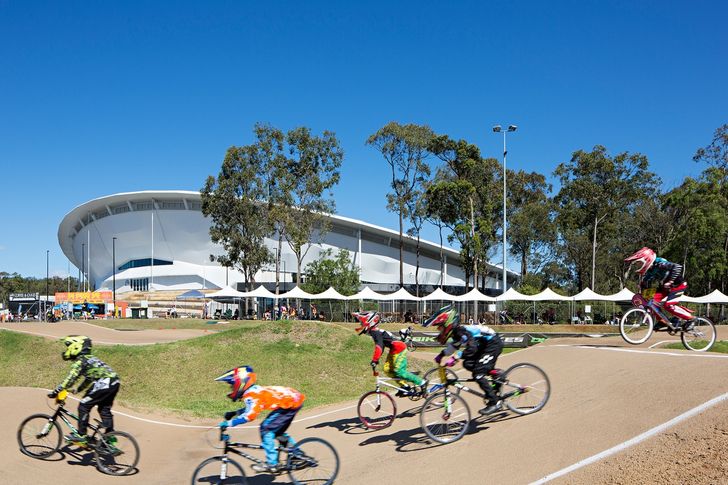 Designed by Cox Architecture and completed in late 2016, this "Pringle-shaped" velodrome south-east of Brisbane CBD in Chandler is Queensland's first indoor cycling facility.
Surrounded by eucalyptus forest and part of the wider Sleeman Sports Complex, the velodrome, one of 17 new and updated venues being prepared ahead of the 2018 Gold Coast Commonwealth Games. It features a 250-metre timber track which caters to all types of indoor cycling races. It accommodates 1,500 permanent seats, but will be able to hold 4,000 seats during the Games.
Inspired by the dynamics of cycling, the sweeping roof form is a defining feature of the velodrome's design. Speaking to ArchitectureAU last year, Richard Coulson, a director at Cox Architecture said the "Pringle" form follows the velodrome's seating requirements.
"It lifts up towards the straights of the track where the greatest number of seats are and it pulls down at the bends where there is less seating," he explained.
Writing in the May 2017 edition of Architecture Australia, Sheona Thomson wrote that Cox Architecture's design "renders the ethereal allure of the crafted track and the speed, precision and expertise of track cycling within a taut and elegant architecture of inspiring quality."
The velodrome will be open on both Saturday and Sunday. For more information, go here.
St Joseph's Nudgee College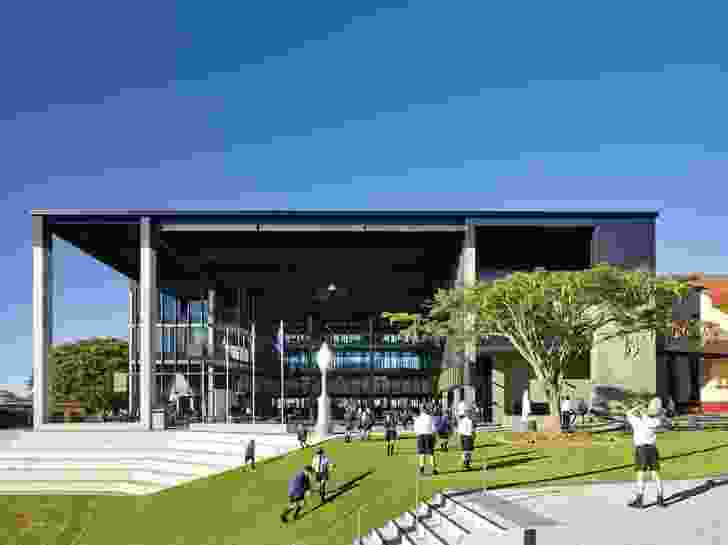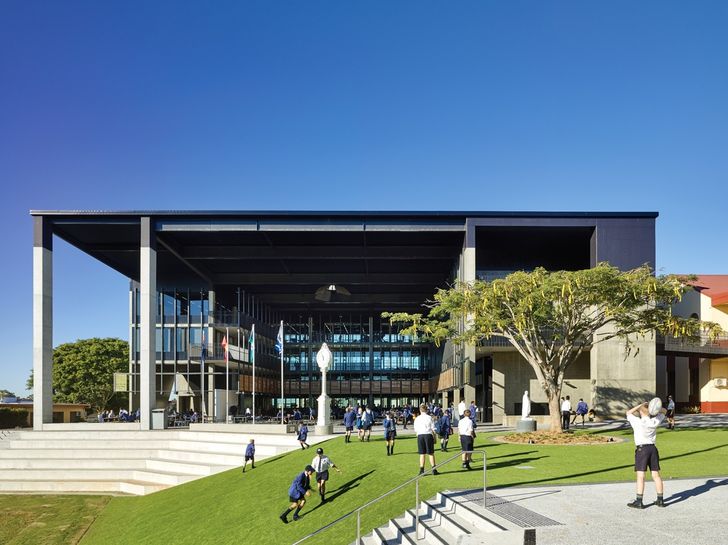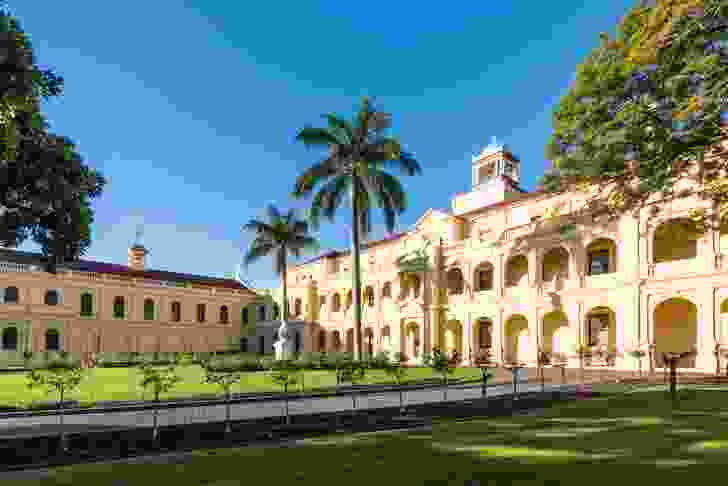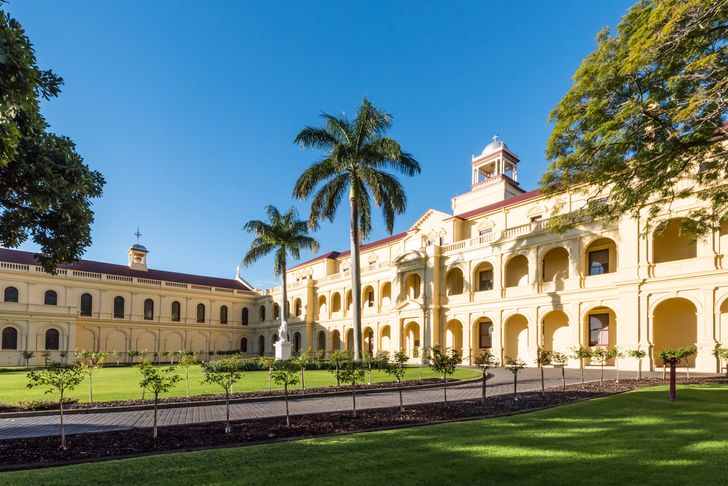 Comprising three distinct buildings, St Joseph's Nudgee College is an amuse-bouche of Brisbane's heritage past and contemporary architecture.
The school's main building, the 1891 Treacy Building, was designed by Italian-born architect and sculptor Andrew Stombuco, who was responsible for a large number of significant Catholic buildings in Brisbane. The chapel, by Hall and Prentice, was completed in 1916.
The latest addition to the school, the D. J. Hanly Learning Centre, was designed by M3 Architecture and completed in 2015. Combining a range of functions in a single, multi-purpose hub, the centre has since won an award for educational architecture in the 2017 Queensland Architecture Awards and the school library award at the Australian Library and Information Association's 2017 ALIA Australian Library Design Awards.
For more information on St Joseph's Nudgee College, go here.
UQ Forgan Smith Building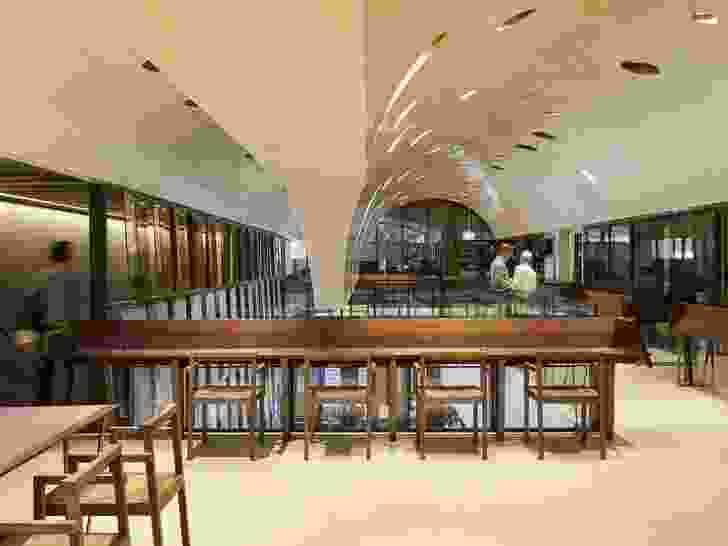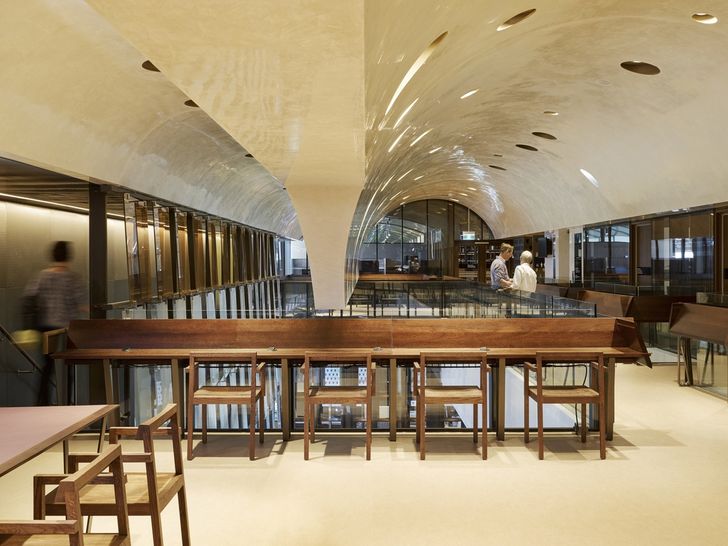 The sandstone-clad Forgan Smith Building at the University of Queensland's St Lucia campus is home to the T. C. Beirne School of Law and Walter Harrison Law Library. Designed by Hennessy, Hennessy and Co in 1936 and officially opened in 1949, the building forms a key part of the university's quadrangle, the Great Court, at the heart of the campus.
A $35-million refurbishment of the heritage-listed building by BVN was completed earlier this year, which saw the confined interior opened up through the creation of a triple-height volume at the entrance and a new vaulted ceiling.
The redesign was intended to enable the school to move away from the traditional lecture/tutorial format of teaching towards dialogue and discourse-focused, seminar-only learning by creating a greater variety of spaces.
Guided tours of the building will be held hourly from 10 am on Sunday. For more information, go here.
There are also a number of houses making a Brisbane Open House debut, including Monaise House by Shaun Lockyer Architects and Bardon House by Gavin Litfin, refurbishment by Nielsen Jenkins Architects. To access the full Brisbane Open House program, go here.
Related topics