JMD-designed park opens in Sydney's west
Construction of the 200-hectare JMD Design and Western Sydney Parklands Trust-masterplanned Bungarribee Park is complete and the park is now open to the public.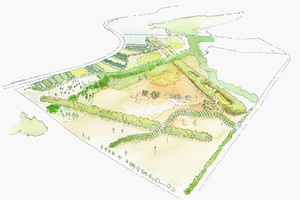 The Bungarribee Park masterplan was initially announced in 2014 and won an Award for Planning at the 2014 NSW Landscape Architecture awards.
The design was composed of four now-realized conceptual elements: a "heart" that preserves the grassland ecology of the site, a "loop" providing circulation through the site, a red gum "runway" that traces the location of a former military runway and an urban forest plantation that provides an ongoing source of materials for the parklands.
The park includes more than 1000 trees, several event spaces, barbecue facilities and cycling and walking tracks. Children are well-accomodated with several play areas, including one with an aeroplane-shaped treehouse at the centre of the park.
The park is located at the northern part of the Western Sydney Parklands, a 5,280-hectare nature reserve that stretches north–south along the M7 motorway. Along its boundaries lie the Great Western Highway to the south and Doonside Road to the east.
A 16.5-hectare, privately operated zoo, masterplanned by Aspect Studios, has also been proposed for a part of the Western Sydney Parklands. The proposal is currently waiting for a final decision from the NSW Planning Assessment Commission.