The centre of gravity in world affairs has shifted. Suddenly, remote patches of water normally used for fishing have become the focus of international controversy and massive infrastructural efforts. Host to the most critical lanes of commercial shipping traffic on earth, where overfishing empties the water near shorelines and economic growth has outpaced oil supplies, the South China Sea is crisscrossed by contradictory territorial claims. Using construction to assert control over a string of low-lying landscape features by turning them into human-made structures, nations have claimed sovereignty over rocks, shoals, reefs, banks and cays closest to the Philippines, Malaysia, Vietnam, Brunei and Taiwan. But it is China, with a coastline more distant than any of the others, that lays claim to 90 percent of the entire sea through the so-called Nine-Dash Line on its maps. Artificial islands are China's dramatic new move in a longstanding territorial struggle, addressing a serious deficit: China does not control any landscape features qualifying as real islands here, whereas its claimant neighbours do.
Paradoxically, while minerals presently represent the largest material stream on earth, discourse in spatial practice has tended to focus its attention on visible urbanization processes, whereas invisible subsurface infrastructure is often ignored or taken for granted. However, as humankind has never before in history extracted, transported, shifted, processed and reproduced more soil and minerals, this distinction does not correspond to the reality of urbanization processes. At one end of the Pacific Ocean, having appropriated strategies for urban expansion that come with natural limitations, the island nation Singapore suffers from a latent need to reclaim land from the foreshore for various types of development projects along its coastline. The aesthetic regimes of cut and fill strategies have contributed to a complete tridimensional transformation of not only a nation's topography, but also its cultural landscape. At the other end of the Pacific Ocean, as numerous institutions have warned that the impact of climate change will be felt around the world, including in some of the world's low-lying coastal regions and island nations, a New Zealand court has recently granted residency to a family of climate change refugees from an island nation averaging about two metres above sea level. 1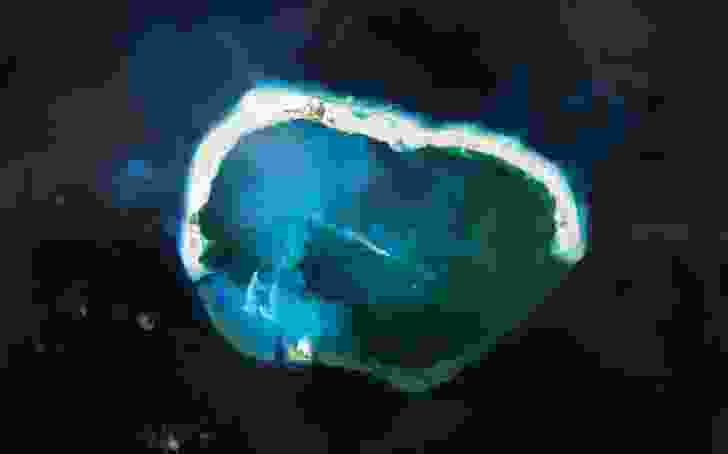 The South China Sea's Spratly Islands archipelago has a large number of reefs, islets, atolls, cays and islands, none of which rises more than four metres above sea level. To approach them is to witness a logistical interplay of insular construction work. Primarily using landing craft, with the support of transport helicopters, amphibious transport docks deploy elements of fortified seawalls and construction equipment. Dredging machines suck sand off the ocean floor at the entrance to the reefs and deposit it into the shallows using long hoses to build up the "rim," widening the passage for larger ships into what then becomes a chain of artificially reclaimed islands. Before the surge in construction, however, unspecified isolated structures are being silently constructed and preserved on the low-lying rocks for years. Legally, according to the UN Convention on the Law of the Sea (UNCLOS), rocks that can "sustain human habitation or economic life of their own" can have an exclusive economic zone. Once these isolated structures are put in place, governments can designate the areas within 200 nautical miles of their coasts as exclusive economic zones, claiming later that the intention is merely to expand earlier facilities.
Due to the ongoing conflict, subsurface sea features in remote areas of the region have not been thoroughly mapped for decades. Geography makes it difficult to monitor events as they occur and there is no public, reliable authority for information on maritime developments. As a result, a fully accurate representation of the South China Sea does not exist. According to UNCLOS, an island is a "naturally formed area of land, surrounded by water, which is above water at high tide." However, a catalogue of all relevant features of the sea and classification of the category into which each feature appropriately falls (such as island, rock, shoal or reef) are non-existent. As cartographic and legislative loopholes are being strategically hijacked through the reclamation of land, borders become complex systems whose physical manifestations coincide with the terms of their representation. This is a new form of performative mapping in which those who inhabit the map have an active role in its construction.
In a perverse logic, these large-scale artificial architectural interventions being forced into existence are only practical because of a particular combination of laws and culture. Under a different political system, they would be literally meaningless. The tectonics of these objects mediate between architectural forms with political intent and empty shells. It is a bizarre moment in which invisible, human-made systems are being re-scaled and literally surface as built fabric to the eyes of those who inhabit the map. Political policies and maps are understood as models of human governance until you reach the moment of a border where they actually adopt an architectural identity.
Buildings in the form of lighthouses, refitted oil platforms, shipyards and other custom-built floating interventions become a pragmatic shell for a not- too-specifically-defined content, which in turn becomes the alibi for their existence. Rather than denying a militarization of the region, Chinese officials ranging from the Defence Ministry to the Meteorological Administration state that the construction work will not affect rights to navigation or overflight or access to energy resources in the South China Sea. Instead, the construction of infrastructure for observation and communication is actively pitched as fulfilling international obligations to "maintain the security of international seas," improving "public services" in these remote waters supposedly "suffering from frequent oceanic disasters and extreme weather and climate events." Shelters and aids for navigation and search and rescue as well as marine meteorological forecasting, fishery and other administrative services are built in the name of marine meteorological monitoring, warning, forecasting, prediction and scientific research.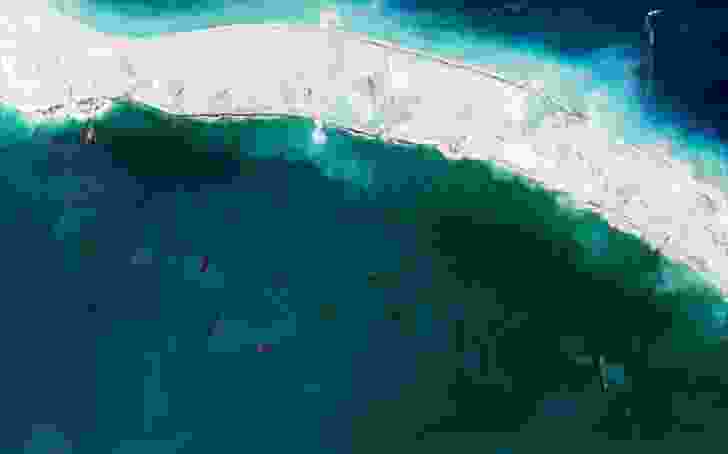 Developing disputed islands as tourist destinations by offering commercial cruises to remote insular outposts is another way for the claimant nations to "diversify" their claims to the areas. The opaque blend of economic and defence power blurs the issue from a diplomatic and military one to a tourism and trade one. Past efforts to prove that the various landscape features belong to the claimant nations included the dissemination of favourable media such as broadcasting TV shows or issuing pamphlets and brochures with favourable cartographic representations. Far off from the densely populated mainland shorelines and skylines of South-East Asia, the gradual development of remote, low-lying landscape features into commodified destinations is a further step in the strategic appropriation of the urbanization phenomenon.
In an argument for scale, this is the space where architecture becomes relevant in terms of a larger field of urbanization, the moment the building becomes a design tool that exercises concrete change at an architectural scale and abstract change at a territorial scale. Ironically, the new-found patterns of urbanization are driven by their own models of governance and representation. Despite a complete ignorance towards their immediate surroundings, the empty shells of the South China Sea transform the territories they inhabit. Architecture is reduced to its very structure, in which the politics of representation determine the success of the intervention, turning even the most mundane of structures into a geopolitically monumental presence. The irony of human-made political poetry manifesting as geological landforms in the South China Sea permits a reading that the agency of mapping is no longer what James Corner so vividly explores as the ability to extrapolate new-found relationships between the intersection of space and time.2 Instead, it has the ability to inspire techniques of cartographic construction that simultaneously draw the map itself and the political, socio-economic landscape it governs.
Entire nations are confined and defined by precise natural borders. Peaks, glacial ridges, shorelines, sand depositions and the meeting of air and sea have been marked, altered and colonized by systems of control that played a fundamental role in the defi nition of the modern sovereign state. Where landscape features delineate countries, they are typically considered to be the permanent, cauterized boundaries of a country, perhaps altered by socio- historical events such as border disputes, invasions or treaties, but not inherently unstable. However, on a geological timescale, no construct is stable. In fact, islands are as much events as they are objects. As ephemeral events, they are primarily composed of processes of accretion and erosion. Where geographic or atmospheric processes are the basis for a shifting definition of territory, climate change and contested resource claims will have a very literal effect on the size and shape of nations. In other words, sovereign territories are divided in part by events instead of fixed geography.
In a landscape of rising sea levels, growing islands and altering borders, nothing seems constant. Spreading uncertainty further in an already hotly contested region, the more that issues can be blurred, the less hope there is of finding a lasting resolution to the overlapping claims of the South China Sea. The performative processes engendered by the act of constructing the map itself provide a plethora of opportunities through which one can subvert or destabilize the vertically arranged geopolitical policies of exclusion. But how will architects begin to perceive the constructive processes that our laws and maps engender as an opportunity to re-evaluate the political economy of the models that drive them? Perhaps sovereignty can be manufactured. After all, we all inhabit maps.
1. Amy Maas, "Tuvalu climate change family win NZ residency appeal," The New Zealand Herald website, 3 August 2014, nzherald.co.nz/nz/news/article.cfm?c_id=1&objectid=11303331
2. James Corner, "The Agency of Mapping: Speculation, Critique and Invention" in Denis Cosgrove (ed), Mappings (Reaktion Books: 1999), 216.
Source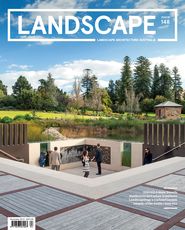 Discussion
Published online: 14 Jul 2016
Words: Lukas Pauer
Images: CSIS Asia Maritime Transparency Initiative / DigitalGlobe
Issue
Landscape Architecture Australia, November 2015
Related topics