A wave of school building was triggered in Queensland by the federal Building the Education Revolution (BER) program and the state government's Flying Start program to support the transition of Year Seven students to secondary school. The BER initiative was widely criticized for wastefulness and not delivering "value," yet was value clearly defined, other than regarding delivery? The BER Implementation Taskforce observed that Catholic and independent schools fared better than government schools with this funding because their masterplanning practices are typically active and their governance and management structures are strong. Arguably, in many of these contexts, a vigorous emphasis is placed on vision and values, cultural practices and agendas for transformation.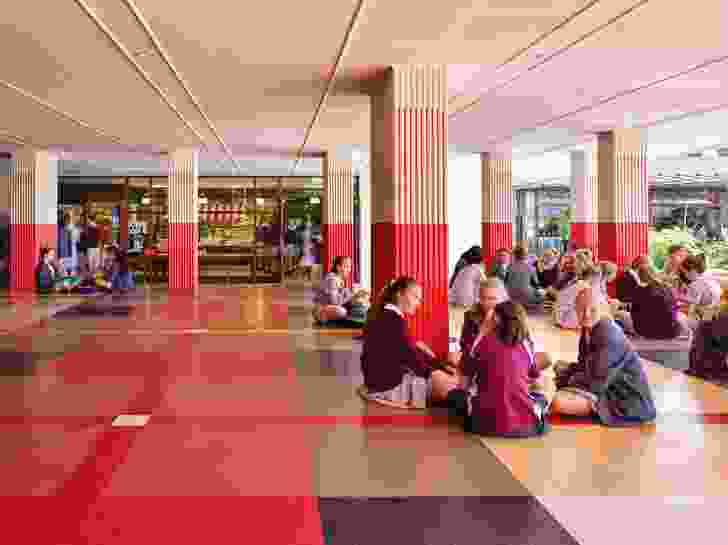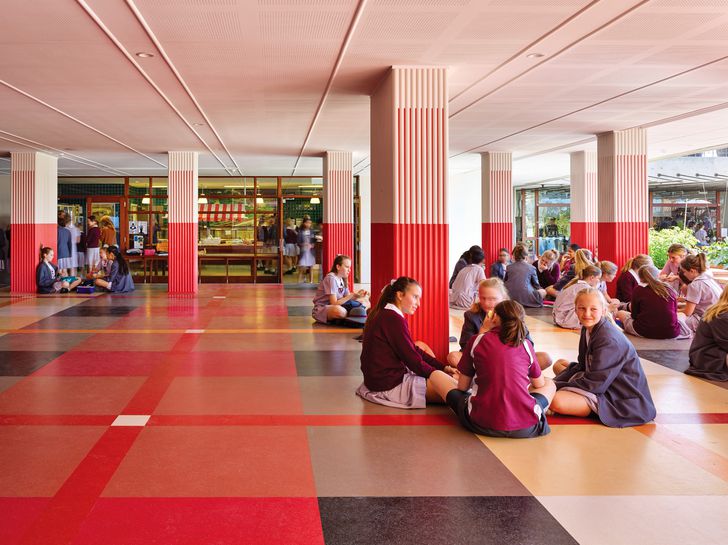 Discussed here are three works by M3architecture within three distinct independent school settings that exemplify positive interactions between values-based learning and inventive architectural imagination. In each context, M3 contributed to the masterplanning, investigating each campus as an entity to be transformed over time, while purposefully addressing the logistical and aspirational needs of the school.
Mount Alvernia College (2015) is a small, independent Catholic secondary girls' school operated by the Franciscan Sisters of the Immaculate Conception. Informed by the nature-centred practice of St Francis of Assisi, the M3 masterplan aimed to manifest the ethical, spiritual and social agendas of Mount Alvernia College, particularly through introducing garden elements. The old classroom building on Cremorne Road was removed and the public face of the school remade as a productive garden. A memory of the original building persists in the reinterpretation of foundations as a garden folly of "ruins." Other materials (such as tiles and timber) find new purpose throughout the new works.
The productive garden is named La Foresta after the site in the Italian Rieti Valley where St Francis once sought sanctuary. Envisioned as a place of physical, emotional and spiritual nourishment for the school community, the garden is actively tended by students. Spaces in the newly extended and fresco-rendered Anthony building interact with the garden both informally and through embedded curriculum approaches. Most closely associated are the new home economics spaces in the west wing and the new school canteen, La Cucina, which incorporates produce from La Foresta into its menu.
Adjacent to La Cucina and opening north onto La Foresta is a social space created by the playful gesture of inserting a raised platform colourfully patterned like a giant picnic rug. It translates a building undercroft into a shaded, grove-like space where students gather to eat and talk.
New learning and administration spaces also interpret Franciscan values, through passive design strategies and spare material expression. The classrooms are elegantly simple, with minimal but effective shareable screen technology and an emphasis on collaboration, visualization and dialogue. Furniture is comfortable and easily rearranged, surfaces are "writeable" and there is no fixed teacher position.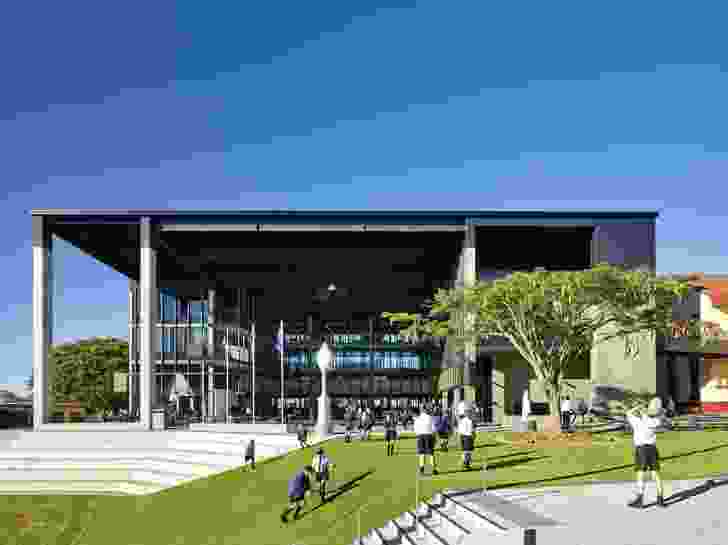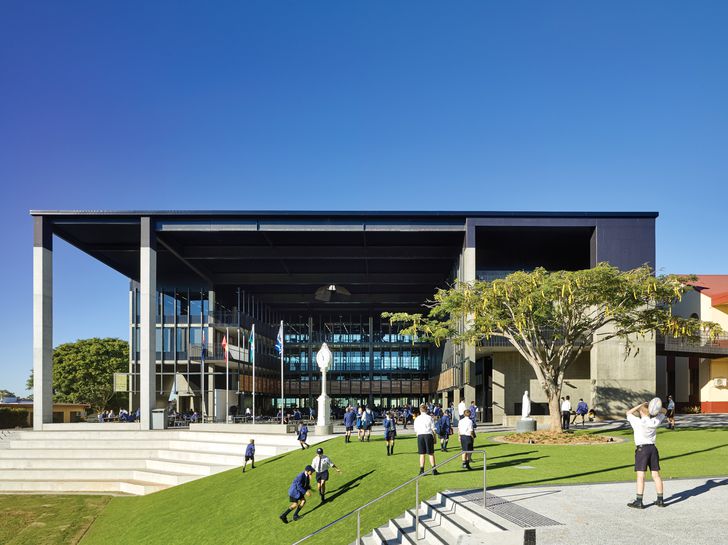 The D. J. Hanly Learning Centre at St Joseph's Nudgee College (2015), fifteen kilometres north of the Brisbane CBD, is a marked counterpoint to the work at Mount Alvernia. St Joseph's Nudgee is a Catholic boys' school in the tradition of Edmund Rice. M3's earlier masterplanning guided decision-making about the best use of funds for new Year Seven learning areas. A brief for a "learning commons" emerged as a contemporary approach that would bring a range of functions into productive adjacency. In this case, Year Seven classrooms are joined by the library (relocated from a basement in another building), the food service, information and audiovisual services, and the learning and teaching department.
The new building is imagined as an "arena" for academia. Searching for a visual language that would evoke learning sensibilities, the architects struck on the idea of Brechtian epic theatre. The learning centre is pared back as a robust shell in a concrete frame, a black backdrop in front of which "learning props" are situated and the "learning acts" of students are played out. Enriching this approach, M3 also incorporated the "Habits of Mind" framework practised by the college. Typically, these sixteen habits are presented on posters, but M3 determined to physically inscribe them into the building, associating each with the experience of a resonant setting. For example, in the debating arena the speaker's position is marked with habit number two: "Thinking and communicating with clarity and precision."
At Mount Alvernia College, M3 carved open space out of the dense and bounded campus through the excision of old building stock. At St Joseph's Nudgee College, the landscape is spacious and sweeping. New building was an opportunity for the architects to make fresh sense of relationships between parts. The U-shaped form of the learning centre dramatically encloses a large covered terrace, which participates in the principal landscape axis of the college and opens onto views of the sporting fields. A centre point aligned to a statue of Edmund Rice out on the main axis is ceremoniously marked by a skylight. The terrace is the host location for the formal learning acts of debating, mooting, oratory and chess competitions, as well as unstructured learning, breakfasts, lunches, and food service for community, sporting and evening events.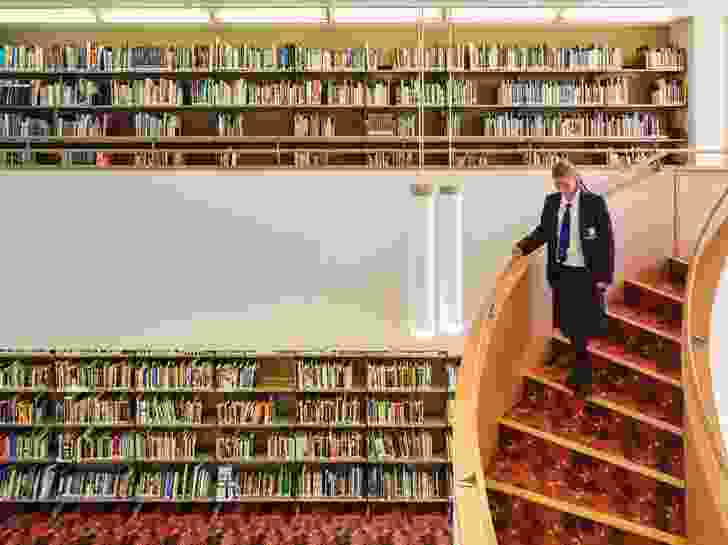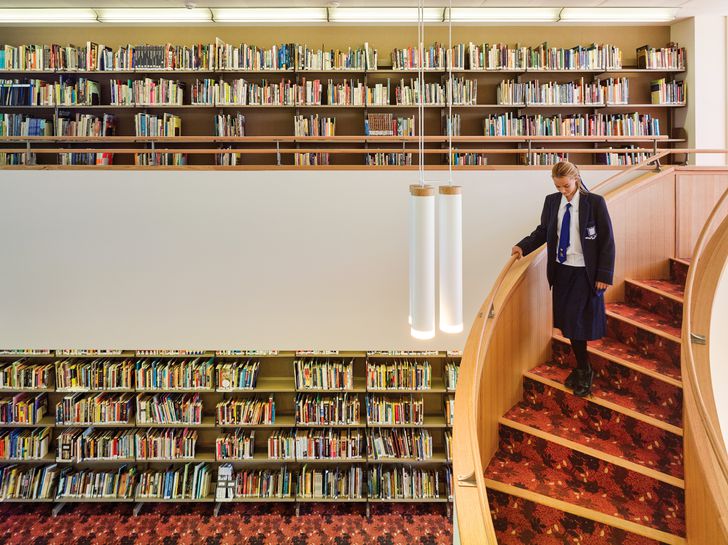 The Research Learning Centre at Brisbane Girls Grammar School (2015) exemplifies another culture of space and tenor of ambition for the learning community. Sited on Gregory Terrace in Spring Hill, at the top of the city, the new building is set in particular relationship to a beautiful old Moreton Bay fig tree. To lead through "exceptional scholarship" is the aspiration of this 140-year-old institution, and the Research Learning Centre is a public expression of the value of scholarship. Inspired by literary descriptions of magical encounters with books, it interweaves references to library traditions with notions of transparency and revelation.
Also dedicated to supporting the Year Seven transition to secondary school, the building is formed by interspersing library rooms with flexible general learning areas, grounding early learning experiences in traditions of modern scholarship. The library rooms are two-storey volumes connected by sweeping staircases. They conjure a sense of fixed containment and focus in counterpoint to the general learning areas, which can expand via operable walls depending on need. Over five levels, with minimal removal of floor plate to create the double volumes, a remarkable spatial outcome has been achieved. An Escher-like experience of labyrinthine wonder unfolds as students move horizontally and vertically on staircase journeys through the building.
The deliberation with which M3architecture probes a developing brief and works to understand the needs of any given project produces unique and engaging places for learning. It is work that takes account of contemporary issues but introduces something more, deeply engaging in a narrative that cultivates the identity of each institution. Good architecture embodies values that enable the positive formative growth of a learner within their learning community, and this, after all, is the best possible transformation.
Source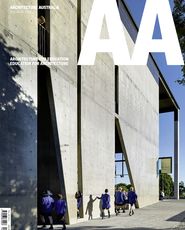 Issue
Architecture Australia, July 2016