The essays and comments that comprise this Dossier [from Architecture Australia, March 2015] speak to a diverse range of concerns embedded within the Australian Institute of Architects' 2015 National Architecture Conference theme, Risk. Most of these texts are authored by invited speakers and prefigure ideas and positions that these and other speakers will more fully explore at the conference. Alongside these texts, we have assembled short articles and a series of extended quotes from video interviews with a wide range of architects and architectural educators from around the world. Such a body of texts over a few pages is far from comprehensive, but I hope it suggests the complexity of the subject at hand.
It is a subject that runs deep within architecture's DNA. As Anthony Burke and Andrew Benjamin establish, risk is not an external factor to be "managed out." Rather, it is a vital constitutive element within innovation and is, Benjamin says, "inextricably bound up with experimentation." Thus it is understood that risk minimization can also mean the minimization of innovation and experimentation: clearly the very antithesis of a positive force in either architecture or, more broadly, the built environment.
In this there is a correspondence with many other aspects of contemporary life, where the denial of risk serves also, intentionally or not, to entrench that which is known and established – ergo the status quo. Meanwhile, ironically, we live in an age of accelerated change, in which Alisa Andrasek observes "… we actually have an enormous opportunity for an expanded field of engagement with the world." In an effort to embrace this expanded field, Caroline Bos states: "those of us who embrace this uncertainty, who reject the safe haven of a consensual, long-ago utopia, must address the complex nature of the real."
Indeed, architectural practice today urgently needs to address the reality of changing times: evolving building technologies and expanding regulation, unstable climates and resource conservation. In addition, the transformation in recent years of design procurement processes and the nature of the architect–client relationship is yet to be fully absorbed by the profession. Here perhaps more than anywhere the issue of risk is most vexed, linked to the rise of managerial techniques that lead to what Marc Angélil describes as a "banality of architecture."
Australian architect Suzannah Waldron reflects on establishing a new practice at a time when the culture of both public and private sector procurement mistakenly conflates "proven track record" with risk-free. This serves to concentrate opportunity in the hands of a few at the expense of the many small- to medium-sized practices – that is, well over 95 percent of current Australian practices. From the perspective of the UK, Deborah Saunt calls this trend the "Tesco-fication" of the profession, which in turn risks the loss of design diversity. "By nature, projects involve risk," she says, "but to use scale as a pre-determinant reduces diversity and fails to foster potential talent."
Yet talent can still be fostered, as will be illustrated by a number of Australian architects who will each present a single project in a series of short, intense reviews on both days of the conference. As a precursor, Kristin Green reflects in her own candid words on the design of a "dream project" on a Pacific island – a design process far from the constraints of regulations and over-management, yet here too risk took on an immediate and physical dimension.
Writing on the broader issue of architect–client relations, David Gianotten unequivocally cites collaborative client relationships and the development of mutual trust between both as perhaps the best means to embrace and share risk. Through the lens of social engagement and community collaboration, this point is reiterated by Rahul Mehrotra, who states: "The moment you nuance your understanding of risk … in relation to value judgements [and] collective endeavour … then [risk begins to have] positive possibilities." For Jeanne Gang, such trust and shared responsibility is again located at the fulcrum of the creative endeavour, engendered through the explication of a disciplined and thorough methodology.
Taken together, the essays that follow do not shy away from alarming trends or dangerous precedents; nor, however, do they underestimate the achievements and success of those who engage with risk positively and intelligently. It is intended that these texts, much like the conference, will serve to sketch the changing face of risk in architecture today. They are neither the start of the discussion, nor a summation, but I hope they will contribute positively to what is an urgently needed and broadly defined discussion.
Source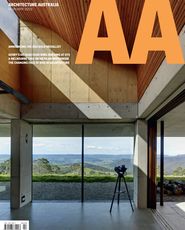 Issue
Architecture Australia, March 2015
Related topics