What does it take to build in a guarantee for a major project? What structure (of commissioning), what form (of delivery), what materials (of contract and project management) are required to convince all and sundry that a project – whether house, library, school, office building, public plaza, arts centre, stadium or new city – will emerge as a guaranteed success, a certainty?
For something to be considered a success, we would need some consensus on both the nature and conditions of success and an agreement on how we might define the success:
Life insurance, superannuation, critics' choice, seal of approval, brand names – all of these act as guarantees in facets of our lives. We seek certainty and hope to reduce the risk of failure, the risk of disappointment, the risk of the unknown – to know at the beginning what will eventuate at the end. The sure thing, the safe bet, the dead cert. If I'm flying to Dubai in a new A380 for fourteen hours, yes, I would like to feel confident that I will get there alive and in reasonable comfort. If I purchase a new iPhone, I trust Apple to deliver not just what it promised in terms of features, but also something that will last at least until (and preferably beyond) the expiration of its guarantee and warranty. Experiences, objects, processes and laws – I have expectations and even legal rights about their reliability and their repeatability.
Is architecture different from these examples? In a complex world, operating under complex regulations with complex management structures, is it possible to guarantee an outcome? Or rather, is it possible to not guarantee an outcome when you have so much invested and involved in the control of a project – all focused on the minimization of risk and the maximization of certainty? Architecture is a product, as well as an experience, a process and a consequence of laws and regulations. But is architecture reliable and repeatable? Should it be? Is architecture still transformative when it repeats (as prescribed) an experience, a formal gesture and a material presence the same way time and time again? Such repeatability and deliverability of a "known known" would certainly provide a guarantee and eliminate most risks.
Rather than spending so much time, effort and resources on building the architecture of the guarantee, based as it is on "known knowns" (with due reference to Donald Rumsfeld), I would prefer that we spend more time on exploiting the guarantee of the transformative ability of architecture to confront and engage both the "known unknowns" and the "unknown unknowns" of daily life – that complex chaos of interactions, engagement and social exchange at the very heart of architectural production.
Source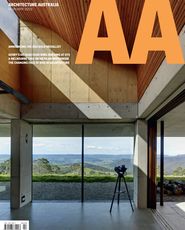 Discussion
Published online: 30 Apr 2015
Words: Donald Bates

Issue
Architecture Australia, March 2015
Related topics