Contemporary architectural discourse is in a rare moment of inversion. Traditionally led from within the confines of universities or by the trajectory of propositional research projects, current debate is now being driven by the complex and ever more fluid relationship between architectural practice and a project's formation. Even the conventional linearity of project procurement has undergone a radical shift whereby design, documentation and construction can now occur in alternating sequences or even in reverse. This allows ideas to be generated simultaneously at different junctions of a problem: design can therefore just as easily occur within the pragmatics of a construction program as in the theoretical realm of applied research.
What this reconfiguration generates as a by-product is a greater complexity about where the project risk actually lies. As a result, developers, financiers, institutional clients and foreign investors stabilize this process by overlaying projects with the brutal cloak of risk minimization and contracts, which usually positions the architect as the final recipient of any potential shortcomings. This collapse of established practice protocols would seem unimaginable to the previous generation of postwar commercial practices such as Stephenson and Turner or Bates Smart, who offered professional design management services within the strict limits of the Royal Australian Institute of Architects' fee scale or the agreed gentlemen's code of conduct. So what happened?
A global boom and the commodification of architecture are what happened. There was the lure of money, projects and stardom. Everyone was too busy creating paradise in the Gulf States or entire cities in western China to worry about what was happening at the point of a project's origin. Risk could be absolved by success. It is only through the slowly sharpening lens of the economic drop of recent years that the effects can start to be measured. There is also a political dimension as the amalgam of government legislation and market economics reconfigures the politics of public and commercial architecture into a Faustian relationship. Major infrastructure projects require market capital to fund their core programs but are caught between the egalitarian needs of the public good and the commercial demands of private interests.
Public transport, roads, hospitals and schools – the usual typologies that reappear with the electoral cycle – are often clouded in ambiguous or open rhetoric regarding their funding, ownership or governance. Even the maturing discussion surrounding the role of the public–private partnership (PPP) model as the most visible example still manages to get lost behind an easy game of blame-the-financier for policy decisions that fundamentally rest within a democratic political debate.
The desalination plant in Victoria that has yet to supply any water or the more recent public debate over the virtues and ethics of Melbourne's East West Link are two examples of urban infrastructure that carried massive risk. Where are the architects and urbanists in this debate? At a contractual level they are usually stifled by confidentiality clauses or commercial in-confidence agreements, while at a policy and public debate level there seems a paucity of discussion on developing an alternate model in which risk is defined as a design problem, not an unsolvable burden.
So where's the good news? It rests partly with the new generation of architects, which has developed a more sophisticated awareness of architectural practice. We are already witnessing Master of Architecture students select professional practice as a new theory subject. Meanwhile the risk-auditor of an architectural practice – usually the domain of the less creative – has become a new force in the contemporary project. For some, this will be seen as a loss of the architect as torchbearer and visionary, but for others it is a realization that contemporary ideas and influence are found at the convergence of procurement, politics and economics.
Source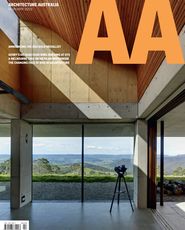 Discussion
Published online: 30 Apr 2015
Words: Hamish Lyon

Issue
Architecture Australia, March 2015
Related topics