In the beginning, the biggest risk for a young practice is lack of opportunities. Entering competitions can be a logical starting point. They encourage innovation and provoke risky proposals. Even if you don't win, they allow your practice to test ideas and work at larger scales, providing numerous experiments to build a body of work and form a practice profile. For our practice, Searle x Waldron Architecture, the wager has been worthwhile. But there's no doubt that competitions involve a shared risk, albeit in different measures. Architects lament the wasted hours and another "unbuilt" project, while the client relinquishes control and is exposed to the whim of a jury and the uncertainty of the outcome.
With many competitions there is an accord that both parties are prepared to take risks in order to achieve good design outcomes. The same cannot always be said for direct commissions within the public sector, particularly with small public projects, which is the next logical stop for the "emerging" architecture practice. Here, clients "mitigate" risk regularly at the cost of design. It starts with a lopsided contract that seeks to "ensure," "warrant" and "guarantee" a risk-free consultancy. This risk aversion can continue throughout the process, promoting convention over innovation with guidelines predetermining "minimum design standards."
Perceptions of risk can be inverse to the scale of the project – the smaller the project, the tighter the budget, time and stakeholder approvals. The client is perhaps unaware or unconcerned that through this determined risk mitigation they are taking the biggest risk of all – the risk that the community won't get good architecture.
In our experience, clients who allow their own expectations to be exceeded are rewarded for their openness to risk. Constraints and threats to the design can be shaped to favour the project. Here, communication strategies developed in competitions can work to open client perceptions. Persuasive logic, diagrams and images can engender confidence in taking a risk outside normative solutions.
For this reason, and despite the odds, the competition is often held up as the key way for emerging practices to shift into and engage in public work. But there should also be more design-focused procurement and tendering processes, where the ability to go beyond the conventional is a key evaluation criterion. Real opportunities are all too often risk-managed out, while a generation of emerging practices misses the chance to contribute to the public realm through small-scale civic projects. The genuine risk is, therefore, that risks are not taken.
Source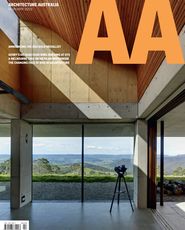 Issue
Architecture Australia, March 2015
Related topics