In any creative endeavour, you have to be unafraid to embrace risk in what you produce and in your ideas. If you repeat yourself you may well get refinement, but you won't get a breakthrough, and what I like most of all is having a breakthrough and discovering something new. This is simply not possible without taking risks.
From the client's standpoint, there is nothing at risk in being shown the full extent of ideas that are possible. It is beneficial to them. If there is a breakthrough idea from the process of idea exploration, the beneficiary is, of course, the client. While I am really attracted to projects where there is a need for a new way of thinking, by the same token I don't want to make a building that won't work.
Fortunately, most of our clients come to us because they are looking for a different way of thinking. They come to us for something that hasn't been done before. Basically, we are trying to help organizations design their future through architecture. In this context, we start talking about options, such as employing building technology in a way that hasn't been employed before. Importantly, however, we do this in a very methodical way – finding out what the barriers are, then one by one addressing these barriers.
The barrier might simply be a building code issue, or sometimes it might be the fear that "it hasn't been done like this before." In responding to that we might find things that are analogous to it, and then try to reduce the fear that way. Alternatively, we might build a complete mock-up and test it. There are various ways to overcome fear when you are trying to do something that hasn't been done exactly like that before.
We have also started to use data to help us understand how people are changing generationally, what their habits are and what they like and prefer. From this research we can test or "futureproof" design ideas that perhaps haven't been done before. So you can start to overcome the resistance to new thinking by asking the right questions and using data strategically.
Source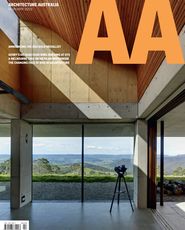 Discussion
Published online: 30 Apr 2015
Words: Jeanne Gang
Images: George Showman, Jenny Hueston
Issue
Architecture Australia, March 2015
Related topics