An aspect of architecture that really interests me is how architecture can be both an art and a practical, useful enterprise in the service of a wider good. How does good, sustainable architecture go beyond being just a building and enter a magical realm of imagination and beauty, offering a legacy for the future? And why is it so hard to do? I think a great deal of the problem comes down to the process. In this, there are a few key issues we need to address.
Defending the best in architecture
Designed in Britain" is far from an anachronistic label one might find on a collectable Dinky Toy or old bakelite radio set. "Designed in Britain" is now a clarion call. From Berlin to Boston, Masdar City to Shanghai, "das Britischer Architekt" has achieved global recognition. Yet why is it that so many British architects flourish abroad but have fewer opportunities in the UK? And where will future talent come from?
We can't assume that the apparent strengths of contemporary British architects will be repeated or sustained. We need to actively nurture research and speculation, and fellowships and sponsorship. With university fees rising, it is going to get much harder for young designers to make the commitment to become an architect. If we want diversity, we will have to actively support it. How can we encourage the nascent enterprising entrepreneur in the young architect?
Supporting our built environment as a process
It is imperative that we keep creativity embedded within the changing shape of the construction industry, but can this be maintained when we have a procurement system that labels architecture as part of a "logistical supply chain"? There are too many clients who pursue deadline-driven project management and refuse to simultaneously consider design as a critical cultural production – on the same level as a fine art – when in fact the two should not be mutually exclusive. If inherent sustainability is the overall aim, we have to ask how we might deliver, commission, procure or plan our built environment so that it is not just a target-driven exercise.
Clients and project managers must gain a greater understanding of the value of design and believe in the role of the architect. They must also engage in less "value engineering" – which ultimately erodes the value of a project – and engage in more "design engineering" that encourages design to bring value, not lose it at all levels.
Harnessing talent and keeping diversity
What is most worrying is the long-term viability of the architecture profession given the rise of what I call the "Tesco-fication" of the construction industry. Architecture cannot be considered an off-the-shelf product. It has to be bespoke, designed for the specific needs of a client and a site, because that is what makes sustainable architecture for the future. Buildings are not simply products. We cannot let short-term economics lead to long-term failures.
There is a new trend analogous to Tesco's expansion plans that is being unfurled in the UK and across the globe. Having won the battle of the High Street, Tesco has now determinedly set its sights on the corner shop, too. The small, independent convenience store is being wiped out of the market by a fleet of new mini Tescos that are blanket bombing the opposition. But one has to ask, at what cost? Big has to coexist with small.
By analogy, removing the risks associated with unique, one-off design and instead choosing to only use the "tried and tested" method results in a great probability that it will become "tried and untested," a method in which a repeat, cookie-cutter mentality will reduce diversity and remove specificity in design.
Over the last few years a similar phenomenon has occurred in the architecture profession. The "big fish" grows larger and larger by hoovering up smaller niche practices to absorb their skill base. This is complemented by the rise of the "bottom feeder," recently observed in public procurement, which sees large practices making low-fee bids for small jobs and therefore hoovering up these projects from the lower levels to keep a foothold in the market. This bargain kills off smaller-scale competition and future competitors.
Perhaps unwittingly, these corporate entities are extinguishing the light of innovation, consequently pushing risk from the fore and stifling new ideas. By nature, projects involve risk but to use scale as a pre-determinant reduces diversity and fails to foster potential talent. If this continues unabated, there will no longer be any smaller practices other than those led by an elite from a well-heeled background, or very small offices working in remote areas.
Clients should think carefully before they decide to "go large" and use a large international practice with all the reassurances of the one-stop shop. Clients need to take risks and buck the trend so that they don't kill the diversity of scales of design practices on our architectural "High Street." If we want a sustainable legacy, let's not lose sight of the fact that truly sustainable architecture is an art and that, at all costs, we have to keep creativity in the built environment.
Source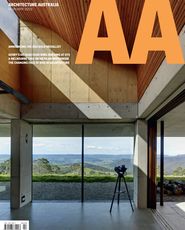 Discussion
Published online: 30 Apr 2015
Words: Deborah Saunt
Images: Dennis Gilbert, Kris Cowley.
Issue
Architecture Australia, March 2015
Related topics