From the perspective of the insurance industry, risk is a construct with both a real component and an imaginary component. The real component pertains to the question of when a catastrophic event may or may not occur in a real setting. The imaginary component pertains to whether this catastrophic event is psychologically driven, putting you in a situation where you anticipate or fear a real risk that might never occur. From this vantage point, it is important that the degree of imaginary risk is as high as possible, while the degree of real risk is as low as possible. It's in this way that insurance companies increase their profits.
This is a principle of risk developed out of economics and mathematics that used to have very little importance to the discipline of architecture and urban design. A few decades ago the discipline of architecture was about form, composition and ground floor plans. Today, suddenly risk has become an important phenomenon that we have to face in our discipline.
Risk entered the field of architecture through managerial techniques that have been introduced into everything that we do – in the office and on the construction site. In the process, it has fundamentally changed the nature of the discipline. I would argue that several decades ago we were more willing to take risks – to explore, do research and accept the fact that one might fail. Failure, if recognized, contributes to the advancement of knowledge.
However, with risk now at the forefront, people in the architectural atelier tend to minimize risk irrespective of whether the risk is real or imaginary. This promotes normative responses to certain problems.
The guarantee of a certain result or a certain performance of a structure relates to what you already know, which through managerial techniques leads to a certain banality of architecture. Whatever you do, you know the outcome. You enter a time when solutions are given and architecture becomes static and predictable.
Source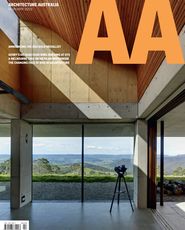 Discussion
Published online: 30 Apr 2015
Words: Marc Angélil
Images: Courtesy of The Holcim Foundation.
Issue
Architecture Australia, March 2015
Related topics