Architecture's greatest power lies in its capacity to creatively synthesize. This also represents one of its greatest opportunities in taking creative risks. Throughout my career I have explored this capacity to synthesize at different levels, most recently looking at construction and the fabric of architecture at what I call an "increased resolution." Put another way, I have been engaged in construction at the scale of the fundamental building blocks of physics, which requires me to use computational physics and supercomputers.
At the same time I have worked on another scale, which is equally complex and fraught with risk. I have collaborated in explorations of large volatile situations in places that are prone to flooding and coastal incursion. For instance, we are now able to simulate the process of sedimentation as it takes place in the Mississippi.
So we work from an incredibly small scale to the scale of major landscape forms. Perhaps for the first time in our history we are able to explicitly connect these orders of scale, engaging both through design synthesis. In this we are embracing the risk of uncharted territories.
For me, one of the most important consequences of all this is that we must ask, "What are the questions that we can pose for architecture and for its agency?" This is important because, whether we acknowledge it or not, architecture is changing.
Traditionally, architects have worked through representation. You imagine something in your head, and then you start to represent it. By contrast, when you start to work with generative systems, this isn't possible anymore. You become immersed in something that has its own agency. Contrary to what is often thought, this is a way of working in which – in my opinion – you can make even more design decisions. Yet it can go beyond your initial imagination or, let's say, determinism.
This is important because, with the explosion of material science and new modes of production, this is not only a matter of new technologies but also a matter of new ways of thinking. There is a huge acceleration in science and technology. How do we find in that acceleration an opportunity for architecture? This is a question being asked in some other fields that are radically reconfiguring their discipline.
Clearly, one big problem in architecture is the way we practise. It is still a very old, almost medieval, way of working compared with other disciplines. It's changing but very slowly. This carries with it a huge risk to its relevance – paradoxically at a time when architecture's agency could expand dramatically. In theory we actually have an enormous opportunity for an expanded field of engagement with the world, yet in practice we seem to be losing ground.
One of the key issues is the major divide between academic research and practice. Practice accesses maybe 3 percent of what is done in research, while research cannot seem to get out of the lab and find implementation in pilot projects. This is not good because research is not productive if it is done in isolation from building ecologies or design ecologies. Research and practice are interrelated. In a rapidly changing world, research must be targeted at some form of materialization, otherwise architecture will continue to lose ground.
Source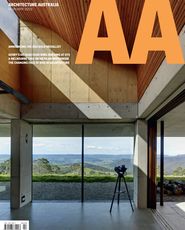 Discussion
Published online: 30 Apr 2015
Words: Alisa Andrasek
Images: Courtesy of Axfoundation.
Issue
Architecture Australia, March 2015