I have strong memories of Kathryn as a second year student in my unit at the Architectural Association. She took it upon herself to establish an enduring and often challenging friendship with me, one that survived my continental displacements and flourished during my first decade in Australia, a period that coincided with her last decade in Japan.
In 1996, Barrie Kosky directed the Adelaide Festival, conceiving of it as a site at which dead art is brought to life through performance. He asked me to program the banks of the river Torrens with a series of architectural interventions that would bring the whole Festival site alive - imagining this terrain as laced with sites epitomising aspects of thinking that brought this city into being.
I devised a curatorial framework using Robert Smithson's phrase: 'Ruins of the Future' as its title. Ushida Findlay was amongst those invited to respond. In the booklet commemorating the event they wrote:
The Siting: For two days we walked the banks of the River Torrens looking for the exact location of our installation, and we thought about what we had learned in our seven-day crash course in Australian culture. We then absorbed the space into our bodies in order to fix the place. The place we felt to be most accommodating only revealed itself in the last twenty minutes of our available time there. We sought 'points of tension' and points of 'take-off', some place where we could 'peel' the landscape from the surface of the ground to create a shelter with dialogue between the collective notion of shelter and the hosting geomorphology.'
They produced the lyrical brushwood thatch form that was later used in her thatched Pool House series.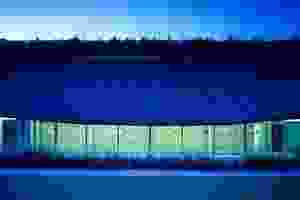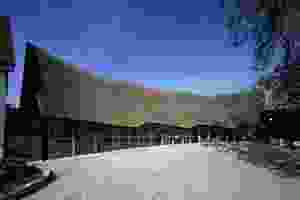 Last year, while researching for my forthcoming book, Practical Poetics, I suggested to Kathryn that the thatched houses could be one of my exemplars. I was intrigued (in my re-reading of her statement) by the 'collective notion of shelter', convinced that Kathryn drew on deeply embedded poetic understandings of space and form. Our conversation was too late. When I questioned her architect daughter, Miya, she observed that the thatching had been inspired by Japanese thatched farmhouses, many of which, two to three hundred years old, survive and some of which, like Pool House 1, have planted ridges. I was wondering whether Kathryn had seen the thatched ridges of Normandy, where traditionally the ridge is capped with clay and planted with Irises that bind the ridge through the roots extending from their rhizomes. Miya didn't think so. I then searched for the Celtic and Gaelic history of thatched buildings and found an uncanny resemblance between traditional Celtic thatching in Scotland, in which the reeds are laid while green, and the green end fronds of the brush that Ushida Findlay used to construct their first thatch building, here in Adelaide. They described of their experience:
We, Ushida Findlay, are outsiders and have come from Japan, not as a homogenous unit but as a hybrid mix of Japanese and Scottish cultural experience…

Coming from urban Japan, where the desire for certainty, closure and, above all, stability has smothered the existence of the mytho-poetical knowledge of the land, we empathise with Light's version (Colonel William Light, the planner of Adelaide had a feel for 'the lie of the land' documented by Paul Carter whose text on this framed the curatorial brief). Perhaps in Australia the deep rift between the modern super-ego and the primal collective consciousness is most honestly addressed. It certainly was a welcome surprise to us to find it so. Australia has re-discovered that the mytho-poetic tells us of the nature within us all.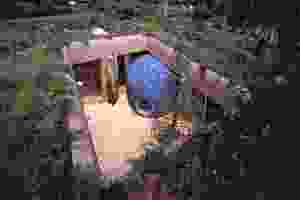 There follows some agonising in the process of designing that led me to write:
Ushida Findlay… acted out their obsession with the reinstatement of nature through building a sweeping form bridged across a natural amphitheatre amidst imported trees (The Soft and Hairy House 1992-94). A brushwood feathering made a structure that denied the duality of horizontal and vertical and embraced the topological mathematics that is emerging as the latest geometry to be consumed by architects, although in their case 'explored' is the more appropriate term. This is a potent evocation of the post perspectival surface-space that computer aided reality is enabling.
Ushida Findlay concluded:
We have come to realise that this is not about plugging something in, but finding a delicate point of interaction with the topography. This is pre-modern… We have lost sight of the fact that land is a space-time matrix, where buildings have a far shorter life than the hosting topography. This installation… address[es] the space-time matrix in which these 'Ruins of the Future' reflect the shape of the city and the shape to which we must expect it, ultimately, to return.
During the following two years, and at Kathryn's characteristically generous instigation, I crafted the 2G International Architecture Review monograph on Ushida Findlay's Japanese work. They concluded their Nexus statement by describing their exceptional drawing technique:
Through the pursuit of topologically based designs, which matured in the Truss Wall House design (1992-93), we have developed a new way of drawing. Through this, we aspire to encapsulate the multi-dimensions of space as a transparent, viscous and continuous medium, simultaneously read as parts and whole… For us, these drawings combine our concerns into a single plangent image, a frame that holds everything in view, and enables us to see what we do next.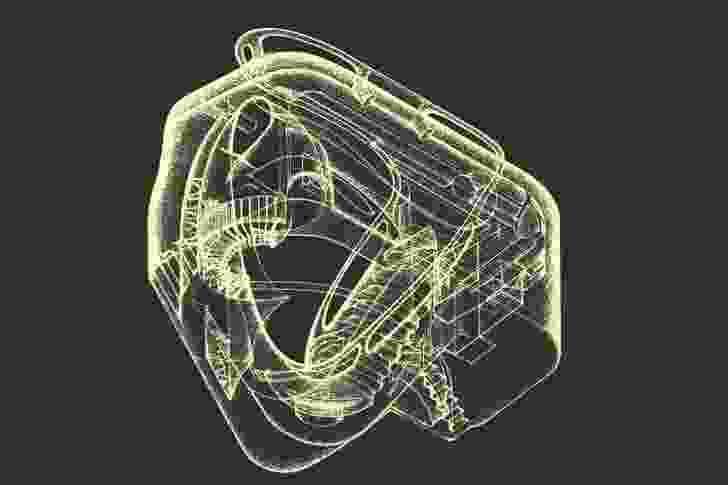 Related topics