Bang and Olufsen's wireless speaker system offers 'unlimited' configurations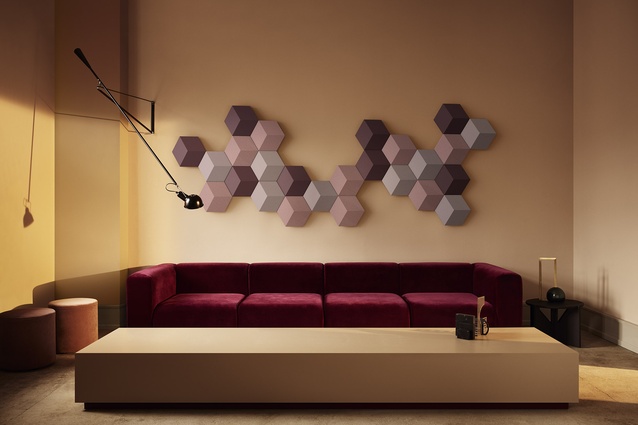 BeoSound Shape from Bang and Olufsen is a  wireless speaker system composed of a changeable combination of hexagonal, wall-mounted speakers, amplifiers and acoustic dampening tiles arranged around a "core" that manages wireless streaming functions.
BeoSound Shape components are available in a variety of colours and textiles, including a capsule collaboration with Danish textile designer and producer Kvadrat.
In addition to the bespoke visual impact BeoSound Shape can introduce to a room, Bang and Olufsen have placed great emphasis on achieving high-quality acoustic results.
Inspired by the idea of "a band on the wall," a unique Bang and Olufsen upmixing algorithm is designed to create a precise soundscape that places vocals at the centre and instruments at the side of the BeoSound Shape system, creating the sense that a live band has been placed "up against the wall."
An online tool will be made available that will make recommendations on the optimal placement of BeoSound Shape components for any given space to achieve the best acoustic results, while also allowing users to mix and match tiles visually.
Bang and Olufson vice president of brand, design and marketing Marie Kristine Schmidt said, "Audiotory indoor climate is essential for our physical and mental well-being, just like natural lighting, fresh air and ergonomics."
"BeoSound Shape forms an excellent answer to the challenges of interior acoustics through its intelligent sound distribution and resonance absorbing effects."
For more information on Bang and Olufsen's BeoSound wireless speaker system, which is due to arrive in Australia in Spring 2017, go here.