AAU: One of the things that staggers me every time I go to Holland is how present design is. It is a part of the culture.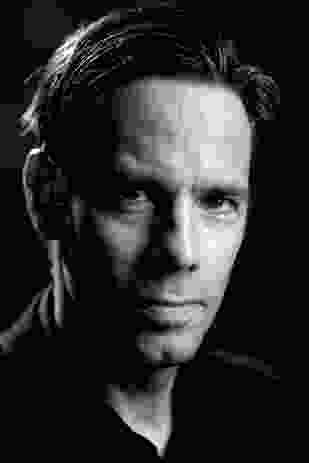 Jacob van Rijs: It has been a big tradition. Mostly from a graphic design perspective like the currency [the guilder, before it was replaced by the Euro], the telephone books and yes… the architecture. I explain in my lecture, that this has two sides, as described in the book Double Dutch: Dutch Architecture since 1985 in which journalist Bernard Hulsman has undertaken an overview of social Dutch architecture since the movement started. He finds that there are, in general, more relatively 'normal' and straightforward conservative buildings built in that time. Yet, the ones that received a lot of attention are the radical ones that gave the feeling that there's a miracle wonderland over there in Holland!
AAU: [Let's talk] public interiors and specifically about the Market Hall… it's quite a different interior project.
JvR: Basically you can see [the Market Hall project] as an interior, a city's interior… like a church used to be… a kind of a gathering space [where] people go just because they want to meet a friend or show around somebody who's new. The best way to enter is from the inside so you just park your car and you come up in the middle of the building where you have this big crater of an escalator, going up wider and wider. Then you see this dome space that's just incredible; that's quite an entry. Then you sense the smells and the people and you're just in a regular market atmosphere but that first impression when you don't know the building… you have that experience only once.
AAU: It's a wonderful twist on the typical shopping mall.
JvR: Yes, and there are people living in this mall. You have a combination of food market and hospitality spaces but [the city planners] didn't have this combination in mind. They said: "okay we would like to have more apartments in the city because it's rather empty at night." Then the developers would be able to earn money from the apartments, pay for the public space and combine it to this arch which was intended, literally, to make more cubic metres for the market. Suddenly, the roof became more valuable.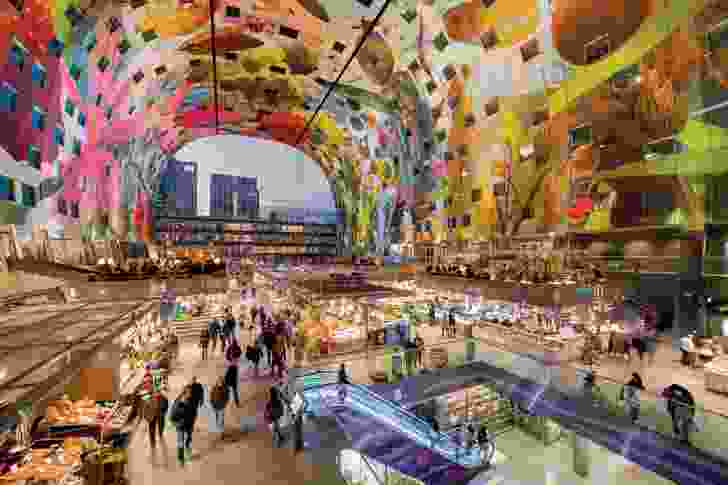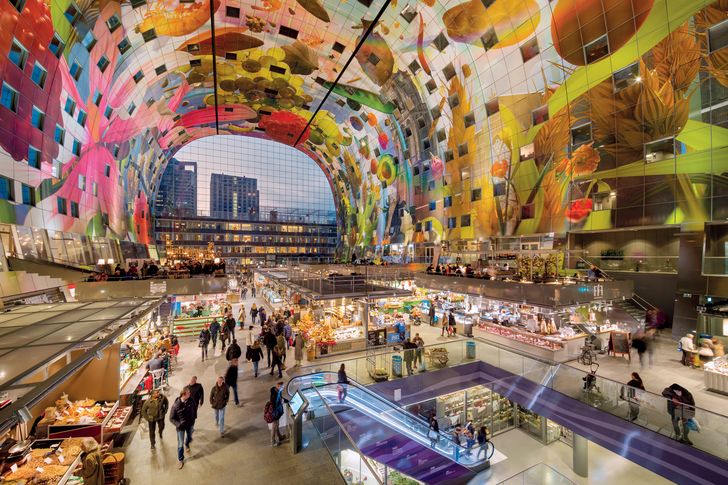 AAU: In terms of large envelopes and interior spaces: does that offer something different from the traditional street in terms of urban planning?
JvR: Like many European cities, downtown is just a large area for people to shop. Right now it's changing a little bit because all these neighbourhoods, all these cities are becoming too similar. People are wanting to find more genuine experiences. You see this in retail developments as well, and the shop itself has something additional that you cannot find online. Its experiential elements are definitely there. People from all over come to Rotterdam just to see this building and they want to experience its diversity.
AAU: So things might be simple in concept but they're also highly technical, like your use of glass for example… it is really exceptional.
JvR: We wanted to have the most transparent façade… a typical architect's dream. But you have wind forces so you need some steel bracing behind it. Our first calculations from the engineer came back saying we needed massive amounts of steel. So I thought: "oh my God… let's ask for help from somebody who is really a pro in that respect." So this person from Delft University of Technology who is into this kind of steel and glass structure and makes a lot of glass roofs… he helped to develop these ideas by making this façade flexible.
AAU: The 'tennis racquet' idea.
JvR: Yes; there are steel columns behind the glass – wonderful – of course, we had to pay the engineer a bit more money… but it saved a lot of steel and it wasn't complicated to build. It was not that much more expensive and, in fact, it's fantastic.
Source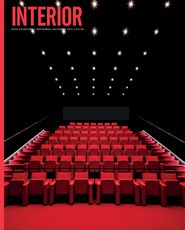 Issue
Interior, September 2015
Related topics