A conversation on the city, with the city
The recent Asia Pacific Architecture Forum 2016 took discussion of our region's urban future beyond professional silos into the broader public realm where it belongs, finds Helen Norrie
Buried within the busy-ness of architectural practice, it's easy to underestimate the value that the exchange of ideas has both within the profession and beyond architecture's disciplinary boundaries. While many events organised by the profession provide opportunities for the former, engagement with the wider community is generally limited. On Brisbane's South Bank, the State Library of Queensland (SLQ) is providing an opportunity for both. The SLQ's Asia Pacific Design Library (APDL) has tasked itself with serving as a "shared space for industry, academia and the public to come together in the generation of new knowledge around design in the Asia Pacific." This is both a physical space that allows access to publications and provides a venue for exhibitions, meeting and workshops, as well as a programme of curated events that are the catalyst for an evolving discussion.
One of the most recent events in this programming was the inaugural Asia Pacific Architecture Forum (APAF), which ran from 1-15 March. A partnership with Architecture Media, APAF set out to explore "the ways new world cities are responding to the opportunities and challenges of the Asian century" through a range of exhibitions, installations, symposia, lectures and workshops. One of the key events of the Forum was the ArchitectureAP Symposium, curated and convened by Architecture Media's editorial director, Cameron Bruhn. This intimate, one-day conference explored innovative thinking and transformative projects from a gamut of architectural practices within the Asia Pacific region. Bruhn skilfully orchestrated the programme to facilitate presentations by 14 architects, balancing small-scale buildings that respond to climate and culture with an array of large-scale cultural and commercial projects that engage with context in a range of ways.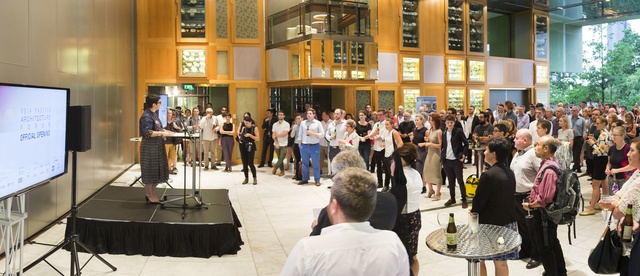 The diverse line-up included local stalwarts working on large-scale projects in Australia and Asia (Cox Architecture, Johnson Pilton Walker and Architectus), along with emerging practices from across the Asia Pacific who are working on projects of varying scales. Presentations were characterised by a discussion of broader ideas and aspirations, as well as detailed descriptions of an array of very fine work. From Japanese practice Terrain Architecture's dormitory in Africa and school library in Indonesia, both born from careful "gestures of occupation," to Facet Studio's Doshisya Kyotanabe Chapel in Kyoto that explored the "Copernicus moment" of departing from a fixed idea, the ideas and projects offered delightful inspiration that was broadly applicable to many places and programmes. Richard Hassell outlined WOHA's 21st-century toolkit to promote civic generosity, which includes a checklist of community plot-ratio, eco-system services score, green plot ratio and self-sufficiency index. WOHA suggest that if large buildings were treated as landscapes more gardens would be created than if the building was built at all. In contrast, Andrew Patterson, of New Zealand practice Pattersons, foregrounded his presentation with a discussion of identity and meaning in Maori culture in order to highlight his practice's approach, which seeks to "design systems of identity."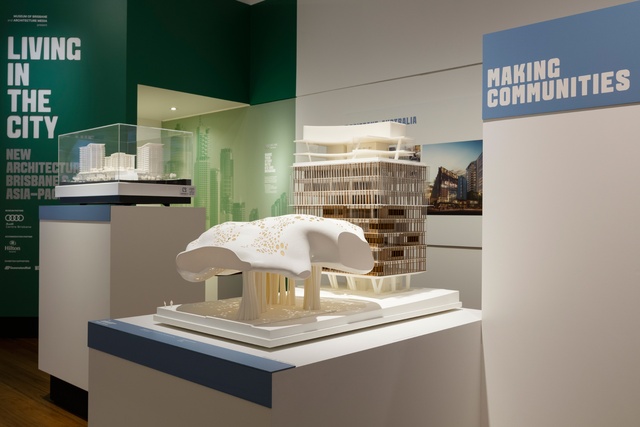 Throughout the two weeks of the AP Architecture Forum, a diverse series of exhibitions were also held across the city, providing a gamut of ways for both design professionals and members of the public to actively engage with a range of ideas about design within the Asia Pacific region. Vietnamese architect Vo Trong Nghia's Green Ladder installation commissioned by the Sherman Contemporary Art Foundation (SCAF) was erected on the front lawn of the State Library. The project is the fourth iteration of SCAF's annual architectural pavilion series, Fugitive Structures. In contrast to previous projects, Nghia's installation was an object, rather than a pavilion, which transformed the raised lawn into a more comfortably habitable space, re-scaling the front entry of the library from civic to personal.
Brisbane's grand City Hall hosted the Living in the City exhibition, co-curated by Bruhn and the Museum of Brisbane deputy director Christopher Salter. Nine Brisbane projects currently under construction were presented alongside projects from Brisbane's nine sister cities in the Asia Pacific region. Each was represented by a large-scale model, accompanied by images and text on an adjacent wall panel, while aerial video footage of each city provided an understanding of context at an even larger scale; a window into the world beyond Brisbane. The exhibition was a great fit for the Museum of Brisbane, which hosts an impressive display on the history of the city in parallel to its temporary exhibition spaces.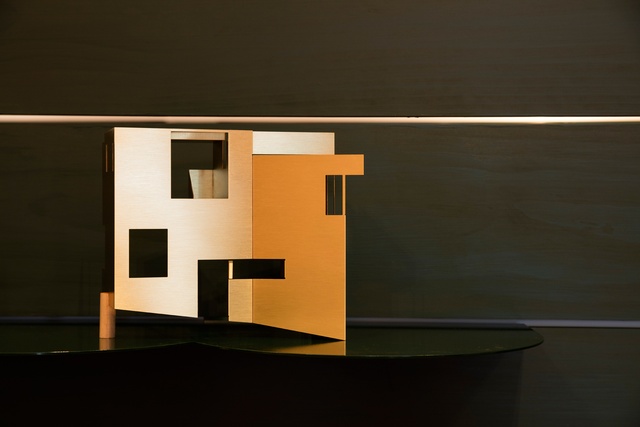 Across town in the gallery Artisan, an exhibition of the work of local architectural practice Vokes and Peters, titled Detail and Manner, explored the relationship between an object and the architecture that houses it. A collection of exquisite brass scale models of houses by Vokes and Peters, constructed by Michael Miscamble of Master Engraving, and an array of photography provided a backdrop for an exhibition of the practice's bespoke furniture collection.
Other events included Open House tours and discussions with architects and clients as well as design workshops and other exhibitions at the SLQ. The Asia Pacific Architecture Forum offers a great model for collaborative engagement between the profession and the community, providing opportunities to explore design ideas in a range of ways.