What kind of work does your design studio do? Hecker Guthrie produces a body of work in the retail, residential, commercial, multi-residential and hospitality sectors, almost in equal parts. We are often called upon by our clients and collaborators to extend our services to the field of building design and garden design. To us, a successful and cohesive space embodies all of those elements along with an overriding sense of craft.
How big is your team? Whilst our team is relatively small, we have a nice balance. Under the direction of Paul Hecker and me, the studio consists of a team of talented interior designers and architectural graduates. We have an in-house stylist/furniture specialist. More regularly, we are taking on commissions that are purely decorative, and these projects lead on to bigger and better things with a client who may have just been dipping their toe in the water. It is also a service we provide to our existing clients to make sure their projects are finished to the very last detail. We have a strong support network, with our general manager, accounts manager, marketing and comms manager, and office assistant. Finally, we have Bergie the dog who is our one horizontal member of the team. Bergie has a calming influence on all and keeps things balanced and in perspective.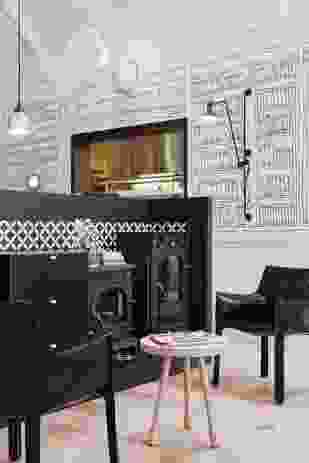 Where are your design projects located? Our projects are generally located in Australia; however, there has been a recent concentration of projects in Singapore, Hong Kong and Malaysia.
Do you prefer to draw by hand or computer? There have been failed attempts by me to draw by computer, but for me, drawing by hand allows an immediate expression of ideas in my mind onto paper. It is so instinctive, and that relationship of mind to hand and, similarly, sketches to drawing board, is what design is all about. Drawing by hand allows the time to consider.
Are you a left-brain or a right-brain designer? As designers, we tap into both of these realms, but as a design partnership I can be defined by those characteristics of a left-brained thinker and Paul as a right. I'd like to think that between the pair of us we make up a whole.
What is your favourite finished project so far? There are too many favourite projects to list, but the one recurring theme with my favourite projects is that they are the ones where the client has embraced the project and come along for the ride. Coupled with that, because as designers we are continually evolving and developing, I would have to say that the current project would be our favourite as we have the opportunity to put our freshest ideas into practice.
What do you wish you did more of? Travel would be my number one pick. Paul and I travel regularly for our projects, fairs and conventions and for research but I do wish there was more time for travel. It allows me to edit ideas along the way and also reinforces existing design ideas. I also wish there was more time to design for the sake of design as opposed to designing to a brief. I have two personal projects at present, our home and our farm, and I look forward to designing those without restraint.
Related topics