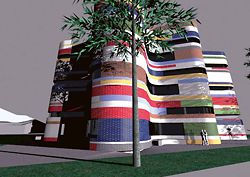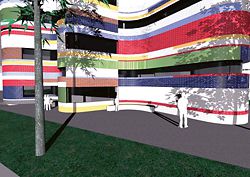 McBride Charles Ryan Architects has proposed a school facility for the senior students of Fitzroy High School in Melbourne that is unlike any other school in Victoria. No hint of a classroom remains, even though it adjoins and extends existing school buildings dating back to 1915. The obvious risk with such an unexpected school design is – will it cause difficulties for staff in the same way that the open-plan classrooms built in the 1970s failed?
However, the architects are not imposing an untested proposition. They are responding to direction from staff, the school council, students and parents at Fitzroy High School, led by the principal, Tim Fitzgerald. The school's brief to the architect was to reflect the teaching paradigm of the school by providing an innovative facility that would facilitate self-directed learning. No precedent could be found for a post-compulsory-learning design based on a personalized learning programme. The architects also had no experience of this kind of learning, and so a major part of the school's role was to give the architects an insight into the teaching methodologies it used. The principal involved the students in the process, including a group in a tour of built work by the firm. The brief overtly asked for a design for future and for yet unknown changes in education, with flexibility an obvious requirement. Both client and architect rejected the mechanical option of sliding doors in favour of a plan format configured to accommodate variety.
Fitzroy High School, located within a gentrified terrace-house suburb, has had a chequered history. Closed by Premier Kennett in 1992 despite community protest, the school was reopened in 2004, after 11 years of community agitation, to provide an education for Years 7–10. After broad consultation, the Education Minister announced in December 2005 that the school will expand beyond the compulsory school years to offer a Years 11 and 12 programme.
The existing school is a potpourri of school types, the result of three major developments since the original 1915 red brick Edwardian school. A 1960s multi-level classroom building was attached to the Edwardian school, enclosing a courtyard. In the 1970s a detached canteen and gym building were located at the rear of the site. Prior to the reopening in 2004, Hayball Leonard Stent Architects sensitively rationalized and opened up the cellular classrooms and designed a new technology wing to sit alongside but detached from the existing school rooms.
In late 2006, the school council appointed McBride Charles Ryan Architects (MCR), a firm recognized as being at the cutting edge of design. MCR began an extensive master planning process, working out the best way to squeeze the required extra 1400 square metres of space into an already tight site. The architects argued that the optimal position would be attached to the existing school at the south-east corner, away from the front entry but prominently located near a side street. To keep the footprint small, accommodation would be located in three stories aligned to the levels of the existing school building. The design announced a different kind of learning environment to students, parents and the community.
The history of teaching methodology is captured in school designs. Colonial school templates from the 1820s to the 1850s typically contained an elongated school room alongside a separate classroom. Up to 120 students sat three-deep along the length of the school room on terraced platforms, divided into smaller groups by curtains. This template allowed the master to supervise apprentice teachers. The separate classroom allowed groups to be taught in rotation away from the noise of the school room. In the 1830s, the playground was recognized as an important part of a school. In the 1900s, classrooms replaced the larger rectilinear school rooms entirely. Instead of a system of master and apprentice teachers, each teacher was in charge of a student cohort and worked relatively independently. Most of us are familiar with variations of this model from our own school years.
As a parent with children at Fitzroy High School, I am aware that our children have found the school both invigorating and challenging. This is not a place for passive learning. The students experience a quasi-university style of engagement. They develop research skills in preference to learning from textbooks. They learn within a rapidly changing world, with ready access to information through digital technology. Higher-order learning and understanding are emphasized rather than skill sets. Students direct their learning in partnership with parents and teachers, and classes are not driven by bells ringing every 50 minutes. Rather, there is time for students to explore and reflect in a curriculum organized around three core areas – "Inquiry", focused on expanding students' knowledge; "Toolbox", focused on necessary skills; and "Personal Learning Time" for creating a collaborative framework supporting active participation.
Any new space designed for this client was unlikely to replicate the classroom model. The Department of Education (DoE) in Victoria has been proactive in supporting innovation and is undertaking research into new learning spaces, particularly in terms of sustainability and the way space can support new learning methods. In 2006, the department introduced the School Design Awards to recognize the importance of good design and to promote design innovation. The Victorian Government has committed to spending $1.9 billion to rebuild or modernize 500 schools across Victoria over the next four years. Clear funding guidelines exist to ensure that money is effectively spent. The inkblot footprint of the proposed design appears at first to be extravagant, with its sinuous exterior wall. But economically, it compares favourably with a more linear plan in terms of the ratio of exterior wall to net space.
Because it is a deep plan, convoluting the wall allows light into the centre and helps rationalize the structure. Wet areas and toilet facilities are all located on the ground floor to limit the extent of plumbing. A central light well acts as a thermal chimney for venting and simplifies the stormwater. Room heights are higher than normal, so they connect seamlessly with the generous height of the original building. This also has the passive design advantage of stratifying air and ventilation. The construction is proposed as strips of glazed bricks interlaced with deep-set windows, and the benefits of thermal mass are further developed using precast concrete for the exposed ceilings and floor structure.
The design represents a cultural shift driven not by architects, but by schools of education, government bodies and teachers at the classroom coalface. Educators are proposing new pedagogies that put students rather than teachers at the centre of learning, and these new teaching strategies have implications for the design of learning spaces.
Fitzroy High has developed unique strengths in the fields of art and design. The vision for Years 11 and 12 focuses on the incorporation of design thinking across multiple subject areas. MCR's design is a cross between the studio environment familiar to architects and a gallery environment. On the ground floor, an art room opens into the entry area. Tucked away near the teachers' planning room is an area for students to study quietly. On the upper floors, spaces are arranged to suit small collaborative teams, but can be combined for a presentation seating up to two hundred students.
At this early stage, the proposal is just shifting from schematic design to design development, and the architects are meeting with the planning committee and staff to resolve carefully the minutiae of power points, pin-up space, storage, acoustics, viewpoints and furniture. In one of these planning sessions, it was fascinating to hear the teachers engage proactively with the architects about how space might be used and manipulated. While literature on learning and pedagogy is extensive, relatively little research exists on the relationship between space and learning. Likewise, trainee teachers are provided with little information about the use of space.
This plan fits the school agenda of Fitzroy like a hand in a glove. The proposal is not a template design that could be inflicted on teachers unaccustomed to team teaching. Spaces are flexible, fluid and multi-focused. Computer zones and teacher desks are missing. Instead the space is networked, so students and teachers can shift and refocus as required. At this early stage, it is unclear how the final building design will engage with its existing neighbouring classrooms either internally or externally. The spaces around the building have not yet been fully considered. The actual success of this design will be determined by teachers and students in 2009. In any case, the school will serve as a useful case study for students, particularly as the school intends to have a design focus. Effectively the school will be a potted history of education architecture, representing design shifts and teaching methodologies spanning nearly a century.

Clare Newton is a senior lecturer in architecture at the University of Melbourne. In 2007, Clare Newton, Dominique Hes, Sue Wilks, Kenn Fisher and Kim Dovey were awarded $340,000 over three years for an ARC Linkage Grant project "Smart Green Schools". The linkage partners for this project include DoE, the Victorian Government Architect and several Victorian architects known for excellence in school design.

The author would like to thank the school's built environment planning group – Tim Fitzgerald, John Davidson, Helen McKernan and, in particular, Antony McPhee – for their help in providing background information for this article.
Credits
Architect

McBride Charles Ryan
Melbourne, Vic, Australia
Project Team

Robert McBride, Debbie-Lyn Ryan, Drew Williamson, Michelle James, Angela Woda, Flynn Lewer, Meredith Dufour
Consultants

Building surveyor Reddo Building Surveyors
Project manager Arup Melbourne
Quantity surveyor Newton Kerr and Partners
Services consultant Connor Pincus and Saunders
Structural consultant Orbit Solutions

Site Details

Location Fitzroy, Melbourne, Vic, Australia

Project Details

Category Education, Public / commercial

Client

Client name Fitzroy High School Council and Department of Education.

Source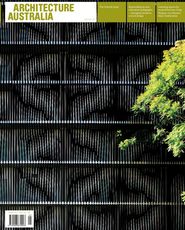 Issue
Architecture Australia, September 2007
Related topics