The term "downsizing" is a relative one. While most downsizers' needs are catered for by the deluge of standardized apartments being constructed in Australia's inner-city suburbs, there also exists a population of homeowners who seek the benefits of low-maintenance apartment life without losing any of the amenity their previous homes offered. The four apartments of Sussex deliver this amenity in spades: each one is approximately 260 square metres, significantly larger than both the average Australian apartment (125 square metres) and the average Australian house (230 square metres) built between 2017 and 2018. Despite this size, each of the four dwellings has been beautifully planned to feel like a comfortable and generous family home rather than a bloated "McApartment."
Located in Brighton in Melbourne's inner south-east, Sussex is surrounded by polite beauty: a mix of graceful Federation-era homes, faux- historical mansions with embellishments appropriated from overlapping styles (copy–paste method) and a growing mass of contemporary houses seemingly competing to erase all character with their slick boxes (delete method). Within this context, Powell and Glenn Architects and Mim Design have created a contemporary building imbued with what project architect Ed Glenn describes as "a sense of age, like an eroding artefact," proving that a modern architectural language can have both character and gravitas without copying, pasting or deleting.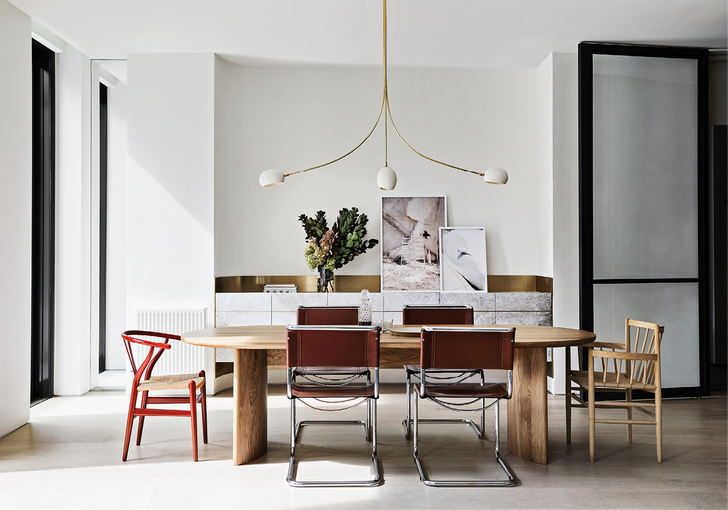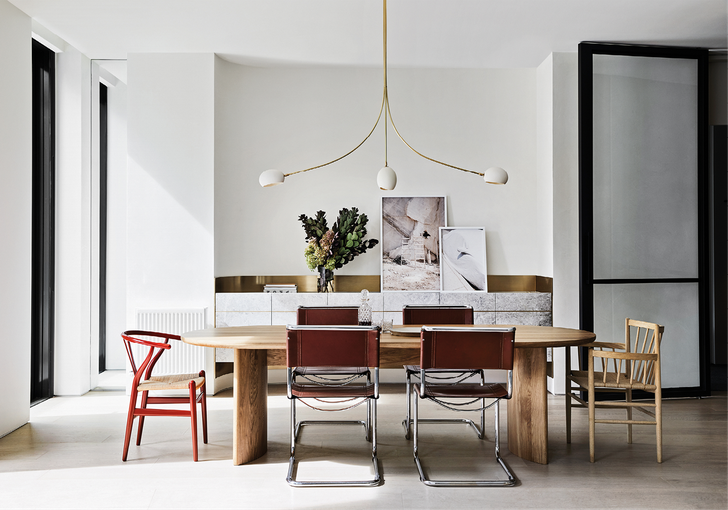 The elevation to the street embodies this notion best. Its monolithic white mass, punctured by deeply recessed windows, appears to peel away from the main building and stand freely like the remnant of an ancient ruin. This element is created using a curious double curve, which Glenn notes is "a device to disrupt the relentlessly orthogonal grid defining the local streets." It is part of an ongoing study by Powell and Glenn into the qualities these deliberately imperfect, or "human," curves can impart. Similar explorations of these disjointed geometries can be seen in the curving rammed-earth walls of TarraWarra Museum of Art in Victoria, also by the practice.
The apartments are generous in both their spaciousness and quality of finish, characteristics that are rare to find in a multi-residential development, even more so in one that is completely speculative. Each apartment is planned to make the most of the east–west oriented site, with courtyards, balconies and living areas taking full advantage of the long northern aspect, while bathrooms and bedrooms are wisely located to the south. Entry from the street is also from the south, with a series of portals framing a notional threshold to the lobby shared by all four residences.
The entry to the ground floor apartment is a carefully composed event. A small antechamber off the lobby invites a brief pause before drawing occupants either along the gracefully curved and warm timber-lined hallway to the formal dining area, past a series of discretely recessed bedroom doors, or directly into the north-facing kitchen and entertaining areas. It's a nice choice to have and this sequence reminds me of the seldom-used front door to most Australian homes, reserved only for those who don't yet know to just head straight around the back.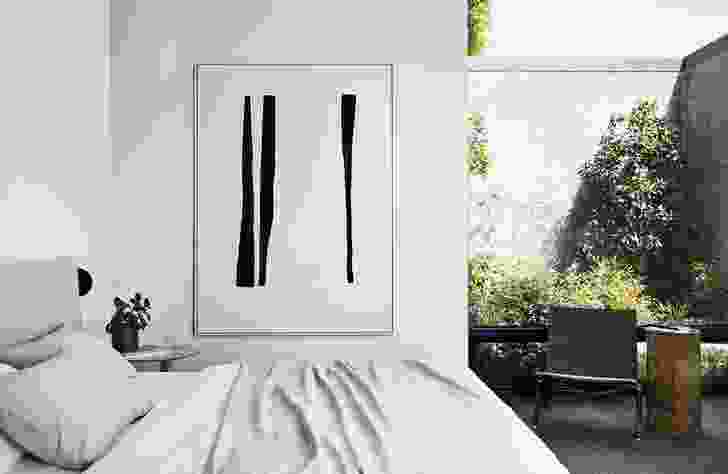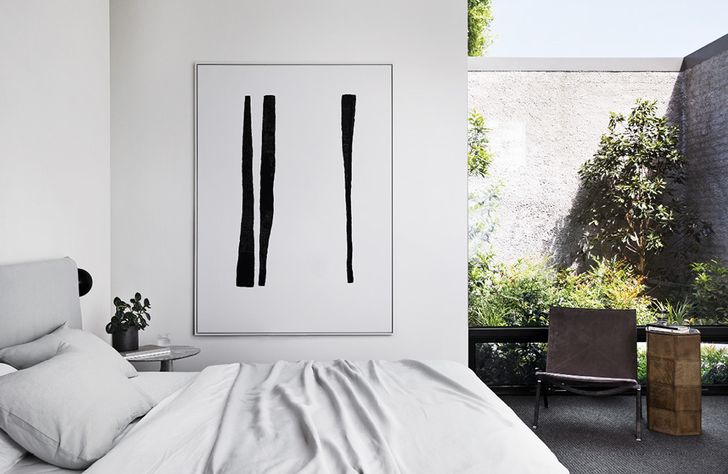 The kitchen, as Miriam Fanning of Mim Design notes, was designed to appear as if it had been "dropped into place," a semblance that arises thanks to the softly curved hallway and its timber lining, which allow the kitchen to stand alone in the space. This hallway wall, like the glass sconces and many other bespoke items in the apartment, draws on the architects' interest in the "imperfect" curve. Miriam says that a significant amount of time was spent achieving just the right quantum of "unsettling" in the hall's final curvature.
The warm and restrained palette of the interior finishes is completely in sync with the intent to create a timeless building. The apartment features polished plaster, alive with the hand of the craftsperson, which bounces a beautifully diffuse light rather than absorbing it as conventional plasterboard would. In the kitchen and bathrooms, the floors, walls and vanities feature improbably large slabs of warm grey stone instead of the typical skin of tiles, evoking a sense that the space has been hewn from a monolithic form rather than assembled from thin surface finishes.
Wherever one looks there is an incredible level of harmony in the resolution of the architecture and interior details, something that has perhaps been made possible by a development model in which the design is unfettered by the whims of future residents. Or perhaps this is precisely what we should expect when two highly regarded and experienced design practices combine forces.
Products and materials
Roofing

Lysaght Klip-lok 700 Hi-strength roof cladding in Colorbond 'Wallaby'
External walls

Paddy's Bricks pressed red seconds used in brick veneer; Aitken Freeman cement render
Internal walls

Bishop Décor Waterstone polished plaster in Dulux Wash and Wear Low Sheen 'Natural White'; Eveneer timber veneer
Windows and doors

Architectural Window Systems aluminium sliding doors, glazed windows and steel French doors all powdercoated in Dulux 'Monument'; Pittella door hardware in 'Black Opaque'
Flooring

Cavalier Bremworth Foss carpet in 'Honiton'; Woodcut engineered European oak floor in 'White Oiled'
Lighting

Custom pendants by Reduxr; custom domed wall sconce by Ambience; Anna Charlesworth Large Shield Light
Kitchen

Gaggenau stainless steel pyrolytic oven, microwave and cooktop; joinery in Eveneer timber veneer; Apex Stone honed stone slabs in 'Tundra Grey'; Zip Hydrotap Celsius All-In-One tap in 'Gun Metal'; Abey Piazza Double Square Bowl sink
Bathroom

Astra Walker Icon basin and shower mixers, shower rail and robe hook, all in 'Iron Bronze'; Villeroy and Boch Architectura white ceramic basin; Moda Teresa freestanding stone bath from ACS Designer Bathrooms; Apex Stone honed stone slabs in 'Tundra Grey'; custom shelves in bronze metal finish by Coben
Heating and cooling

Daikin VRV IV Heat Recovery units; Speedheat underfloor heating; Foster Hydronic Heating hydronic wall panels
External elements

Eco Outdoor Bolzano sandstone crazy paving, Chalford limestone paving and cobblestones
Other

Furniture from Modern Times, Cult and Luke Furniture; rugs from Halcyon Lake; artworks from Modern Times and Studio Gallery Melbourne
Credits
Architect

Powell and Glenn
Melbourne, Vic, Australia
Project Team

Ed Glenn, Miriam Fanning, Kristiina Reeve, Lisa Ransom
Interior designer

Mim Design
South Yarra, Melbourne, Vic, Australia
Consultants

Builder Coben
Engineer Irwinconsult
Landscaping Robert Boyle Landscape Design

Site Details

Location South Yarra, Melbourne, Vic, Australia
Site type Urban
Site area 1175 m2
Building area 270 m2

Project Details

Status Built
Completion date 2019
Design, documentation 10 months
Construction 14 months
Category Interiors, Residential
Type Apartments, Multi-residential

Source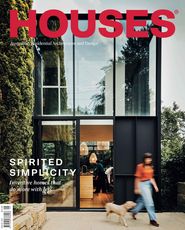 Issue
Houses, October 2019
Related topics