The UK has a long and proud history of social housing provision, which accounts for 17.6 percent of total housing stock, compared to just 4.9 percent in Australia. But the UK, like Australia, is currently facing an affordable housing crisis in both public and private sectors. In January 2019, a cross-party commission called on the UK government to build 3 million new social homes to "rescue people from a future in dangerous, overcrowded or unsuitable homes", according to a report in The Guardian.
In response to this pressing issue, the Victoria and Albert Museum and the Royal Institute of British Architects (RIBA) have collaborated on a new exhibition called A Home for All: Six Experiments in Social Housing. Co-curated by former Melbourne architect Rory Hyde (now the V&A's Curator of Contemporary Architecture and Urbanism, and a Design Advocate for the Mayor of London), the exhibition examines key social housing projects from the 20th Century and explores innovations that could be applied to solve current housing problems.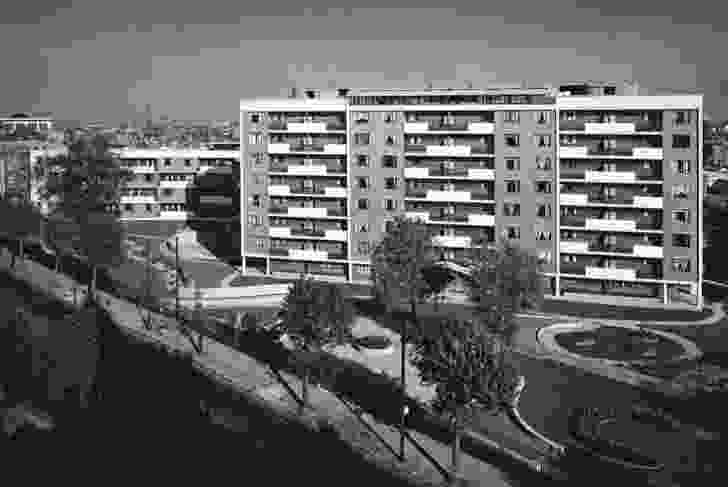 Projects include one of the UK's first Modernist mid-rise developments, Spa Green by Bertold Lubetkin, located in Clerkenwell and completed in 1940; and Keeling House in Bethnal Green by Denis Lasdun of Fry, Drew, Drake and Lasdun, which arranged four 16-storey tower blocks around a free-standing service tower.
One of the most interesting projects of the six was Ralph Erskine's Byker Estate in Newcastle. An example of participatory design, it was constructed in stages between 1969 and 1982 to allow families to be gradually rehoused from slum terraces into new apartments. The estate comprised 1800 units along with schools, shops, churches and community facilities.
A photograph of Erskine's office – established in a disused funeral parlour on the site – depicts a large axonometric drawing in the window. "Residents could drop in to examine the plans and discuss the project," the exhibition text says.
Perhaps the most successful of the six projects is Neave Brown's Alexandra Road Estate in Camden, which eschewed the tower-block typology in favour of ziggurat-style terraced apartments built along railway lines. Three rows of four- and eight-storey blocks contain 520 apartments, each with their own private outdoor terrace, accessed via a pedestrian-only street and raised walkways.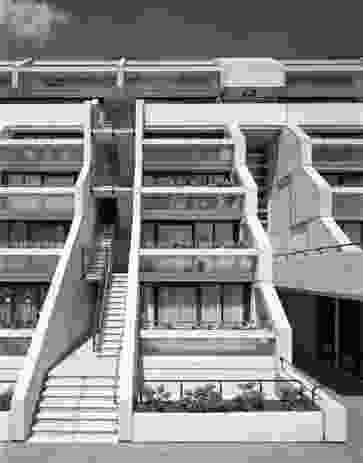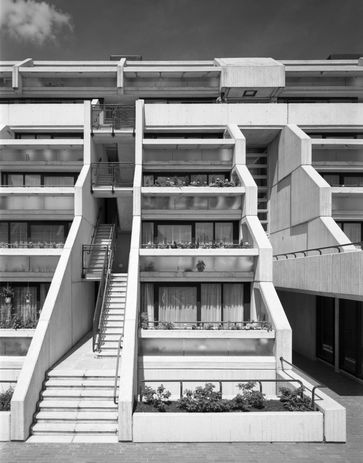 Despite cost blowouts and construction delays, Alexandra Road is one of the most highly regarded social housing projects in the UK, with residents praising the estate that some have called home for more than 40 years.
All of these projects were commissioned and built by local authorities, but divestment of social housing responsibility since the 1980s means that new projects are delivered either by not-for-profit housing organisations, or via affordable housing levies paid by private housing developers.
Consequently, new stock is of variable quality, with many private developers delivering low-cost, low amenity housing for social tenants within private developments. However, there is still considerable innovation occurring, thanks to the work of non-profits. I met with Diana Ibáñez López from Create London – a charity that develops art projects and programmes in disadvantaged areas of London, working closely with artists, local government partners and local communities – to learn about a ground-breaking new project taking shape in London's east.
Diana leads on architecture and urbanism at Create London, and is working with architects Apparata, the Greater London Authority and Barking and Dagenham Council on A House for Artists. It consists of 12 one-, two- and three-bedroom units will sit above a community arts space and shared studios.
The model promises subsidised rental tenure tied to each artist in exchange for half-a-day per week of arts activities downstairs, thus providing arts programming in perpetuity, for free. It addresses two key concerns: the issue of artists being priced out of the capital, and the fact that local arts centres are often subject to budget cuts that make them "too expensive to run."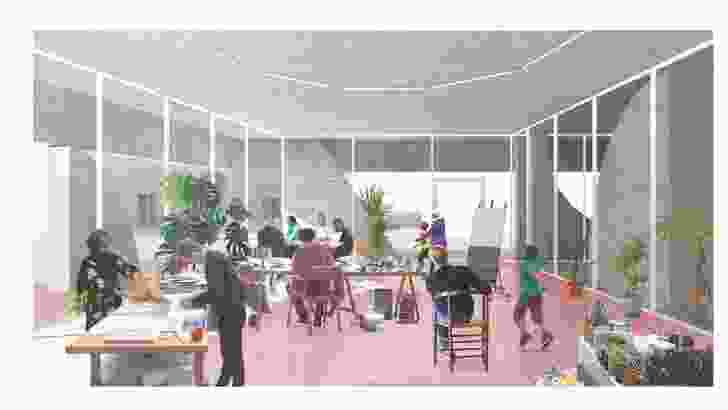 But it's not just the delivery model that is innovative: the apartments feature operable walls between units to allow families to open up their homes to share child-care responsibilities or host large gatherings, and all apartments are generously sized so that an extra room could be easily built in as each family or co-living unit changes. Construction is expected to begin in the UK spring, and Create hopes it will become a prototype for affordable housing linked to an active tenancy, for replication across the country.
The exhibition concluded thus: "Together, these projects show that the idea of 'a home for all' should not be dismissed as a utopian dream, but is an urgent and achievable future", and the Create London project demonstrates that architects are still at the forefront of solving this problem, at least in the UK.
In Australia, where the Everybody's Home coalition asserts that 300,000 new social and Aboriginal homes (and an additional 200,000 new market-rate affordable homes) are needed by 2026 to tackle the one-in-nine renters experiencing rental stress and 116,000 people who were homeless on census night in 2016, there is much work still to be done. How might architects begin to tackle these serious and systemic housing problems?
A House for All is on at the V&A Museum in London until 30 June 2019.
Related topics