Small in scale but packed with ideas, Andrew Simpson Architects and Charles Anderson has transformed a converted chicory kiln into a family beach house with multiple moving parts.
This house was originally a chicory kiln – Phillip Island is dotted with them. The coffee substitute made from the roasted chicory root was produced on the island for over one hundred years, but now the kilns are dilapidated relics or have been converted to perform other functions. This one had been used as a house for some years but the structure was in very bad shape and the clients, Charles Anderson and Tiziana Launech, spent years stripping it back in preparation for renovation, while dreaming up design ideas.
Charles is no ordinary client – he has a PhD in ephemeral architectures, is director of the Master of Landscape Architecture program at RMIT University, is a principal of Stutterheim Anderson Landscape Architecture and began his career as a fine artist. Charles and Andrew Simpson had worked together before, in more traditional architect/consultant roles on one of Andrew Simpson Architects' projects. This time they would both be designing the architecture.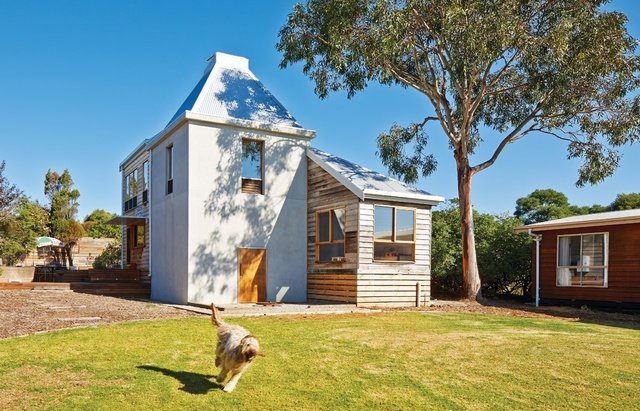 When I was told that this project was by Andrew Simpson Architects, I looked forward to seeing some complex digital geometry and computer-controlled fabrication with an eye to the latest theories of space, life and meaning. This project is not that. Well, it explores academic theories of space, life and meaning, but the ideas emerge from a conversation between friends. Charles sums up a nice definition of a successful creative collaboration: "The idea is that in a collaboration it's not a battle between competing ideas; you actually generate the third thing that only comes into existence in conversation." The work is not what Charles or Tiziana or Andrew Simpson Architects would have produced on their own.
The result is a restrained, minimal work of architecture, with straight lines and square forms. I did think at first that I spotted the computer-fab interests of Andrew in a web of computer-cut lines in the plywood ceiling lining, but this is Charles wearing his artist's hat. The panels feature digitally overlaid images of drawings by Charles's late father, of houses where Charles had lived. The panels were originally used as the floor of the Tarrawarra Museum of Art as part of a 2007 exhibition of Charles's work – A House for Hermes #01: The House of my Father. "The work is really about what constitutes home and place in a contemporary world where people are constantly on the move, a very fluid world. There's a great Georges Perec quote about how to live on staircases – in other words, how to live in spaces of transition," Charles says.
Charles attempted to literally translate the idea of living on a staircase into the house and landscape design. "The first drawing I did was a simple diagram that shows a series of horizontal planes, the whole thing being an extended staircase," he says. One of the levels in this conceptual stair is a timber deck with a Japanese-style outdoor bathing area a short walk from the house. The uppermost level is the mezzanine study and bedroom-in-a-kiln, at the top of an actual staircase. The plywood stair uses the kitchen bench as a landing, and the first three steps are a mobile unit on wheels. This is the first clue that the neutral interior hides a dynamic
secret. Most of the benches are also on wheels. "The space is reconfigurable and adaptable to changing uses by us," says Charles. It has astonishing flexibility.
The kitchen can be transformed so that Tiziana can give cooking classes. (Tiziana is a fashion designer and food blogger and I can personally vouch for her culinary skills – that orange cake was delicious!) You could move the foot of the stairs to a different part of the kitchen counter, or you could roll it out of the way completely so your guests don't go upstairs. Except they have to if they need the toilet – there is only one, hidden in the thickness of the kiln wall upstairs. The kiln walls now provide thermal mass, facing north, and the chimney above the bed is now an operable skylight, drawing an impressive cooling draught with a natural thermal stack effect.
The new footprint is no larger than the old. "It's just a small house and everything's got its place because of the great storage," says Tiziana. There are no cupboards, only drawers, each one sized and located for a specific function. Tiziana proudly showed off the spice-rack-in-a-drawer, with labelled glass bottles lying down. "I've not had a client who's been more intensely involved in the joinery than Tiziana was," says Andrew with a laugh. The two have known each other for years, and Tiziana admits the process of working together has made their friendship stronger.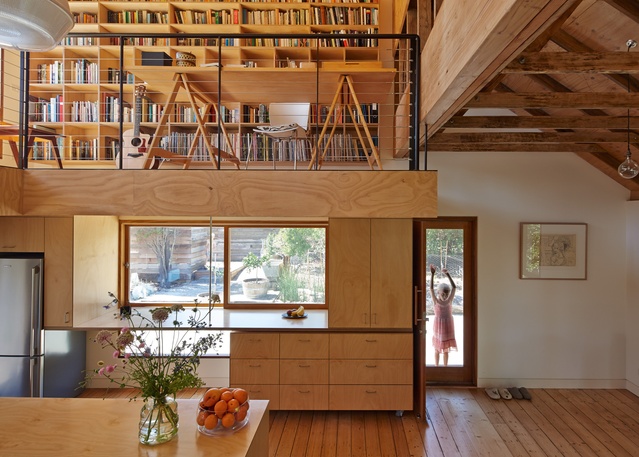 Much of the existing structure had to be removed and reinstated or replaced with structurally sound materials. The alterations also had to be lightweight so that they didn't overwhelm the old foundations. Polystyrene blocks replaced some of the crumbling concrete walling of the kiln. The floating corner of the mezzanine study floor is hung from a roof beam via a fine steel rod. The bookcase upstairs is cantilevered from a specially reinforced external wall, rather than loading the mezzanine floor. Another rod holds up a bench in the kitchen so that the storage unit below can roll out from underneath.
This is a small project in scale but it is packed with ideas, and if it is difficult to distinguish between the work of Charles and Andrew, that is precisely the point – and it is a compliment to both of them. "It's like with any client – there's a conversation that takes place," says Andrew, "but with Charles it's different because you're speaking as equals from a design perspective." They plan to do more work together. If they do, I vote Andrew to be the client next.